Top 15 Thrilling Adventure Experiences in Vietnam (Part II)
Check out these 15 incredible adventure activities in Vietnam, and you'll soon realize they are all irresistible ideas in your travel bucket list.
Try out canyoning & abseiling down waterfalls in Da Lat
Most people come to Da Lat, "The City of Lovers" to chill, but for adventure seekers, Da Lat has a plenty of activities to get your heart racing, inclusive of canyoning, scrambling, zip lining, jumping and swimming. Among them, canyoning activity is the most attractive for travelers.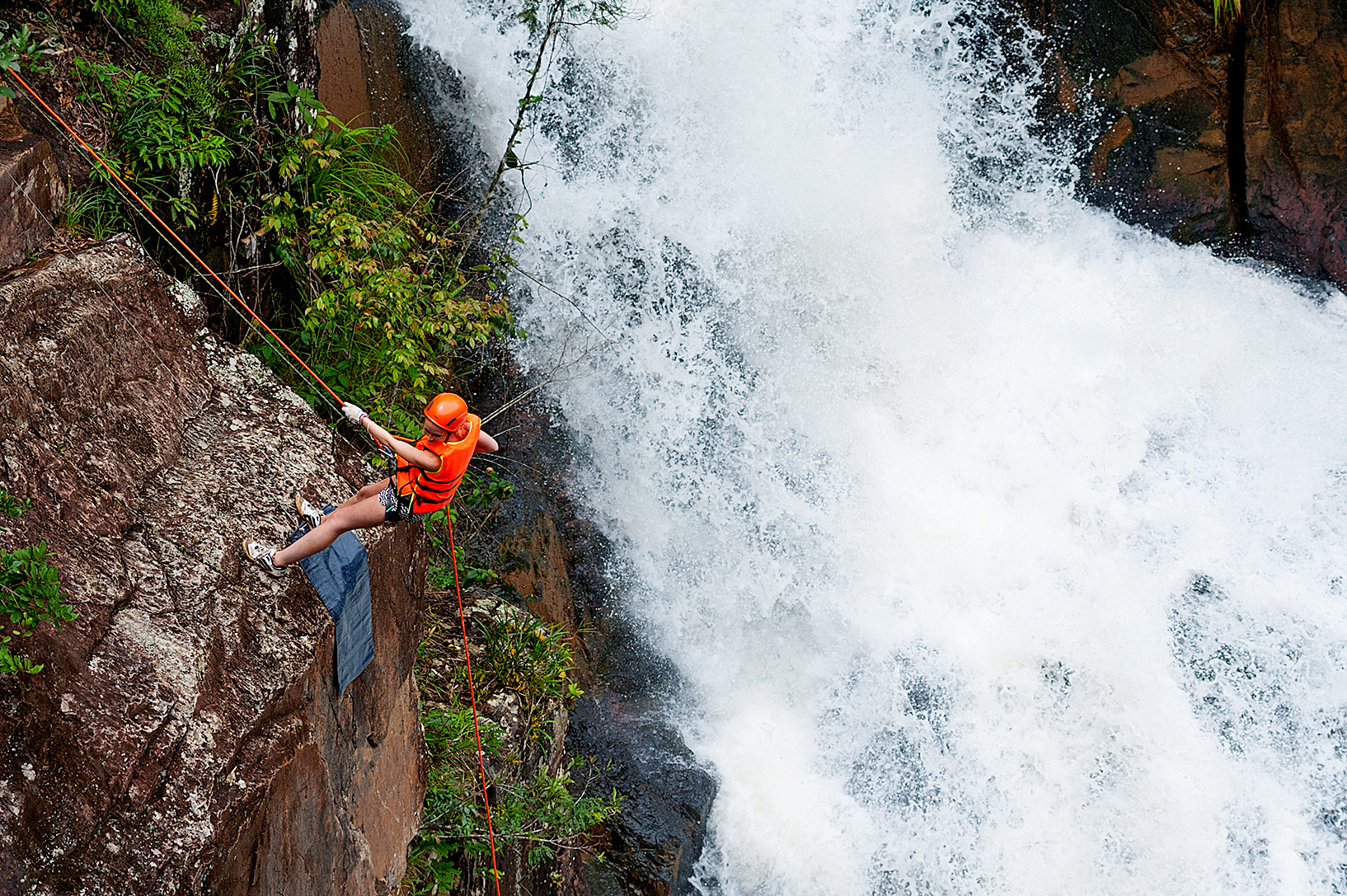 Usually, the canyoning journey includes various separate abseils down from different parts of the large waterfall complex, with the challenging level increases gradually. Canyoning and abseiling allow you to discover the wonders and mysteries of nature in its purest form. During a canyoning trip, you will experience a lot of challenges such as rappelling down the waterfalls, taking a zipline across the falls down the river, joining water sliding down the waterfall and hiking through the jungle.
Don't worry if you haven't experienced this activity before as you will be accompanied by Canyoning professionals and expert guides during the whole trip. Just need a brave heart and adventurous spirit.
Experience cable car ride at Ba Na Hills
Ba Na Hills, a giant recreational complex, apart from Da Nang city 35km to the southwest, is a cool escape from the heat of the coast. It is located on a mountain overlooking the Hai Van Pass, Son Tra Peninsula and Marble Mountains (on a clear day).
Ba Na Hill Station is famous worldwide for the Golden Bridge (a pair of giant hands lift a 150-meter long bridge), a Vietnameseiconic architectural wonder. Also, Ba Na Hills possess the impressively longcable car system (11.587 meters long), which won four Guinness World Records. During a cable ride, you get a chance to contemplate the spectacular scenery of the dense forest cloaking the mountain, which is home to over 500 species of plants and 250 types of animal. The cable ride is a great hit for travelers who come up here at night to admire the lights of Da Nang twinkling far below.
Kitesurf in Mui Ne
Mui Ne, the capital of Binh Thuan Province, is 4 hours away from Ho Chi Minh City. It's one of southern Vietnam's attractive beach destinations. Once the quiet fishing town, Mui Ne has become into a water sports mecca, most notably for kitesurfing. Whether you are an experienced kiteboarder or a complete novice, Mui Ne is a great base for a kitesurfing holiday in Vietnam.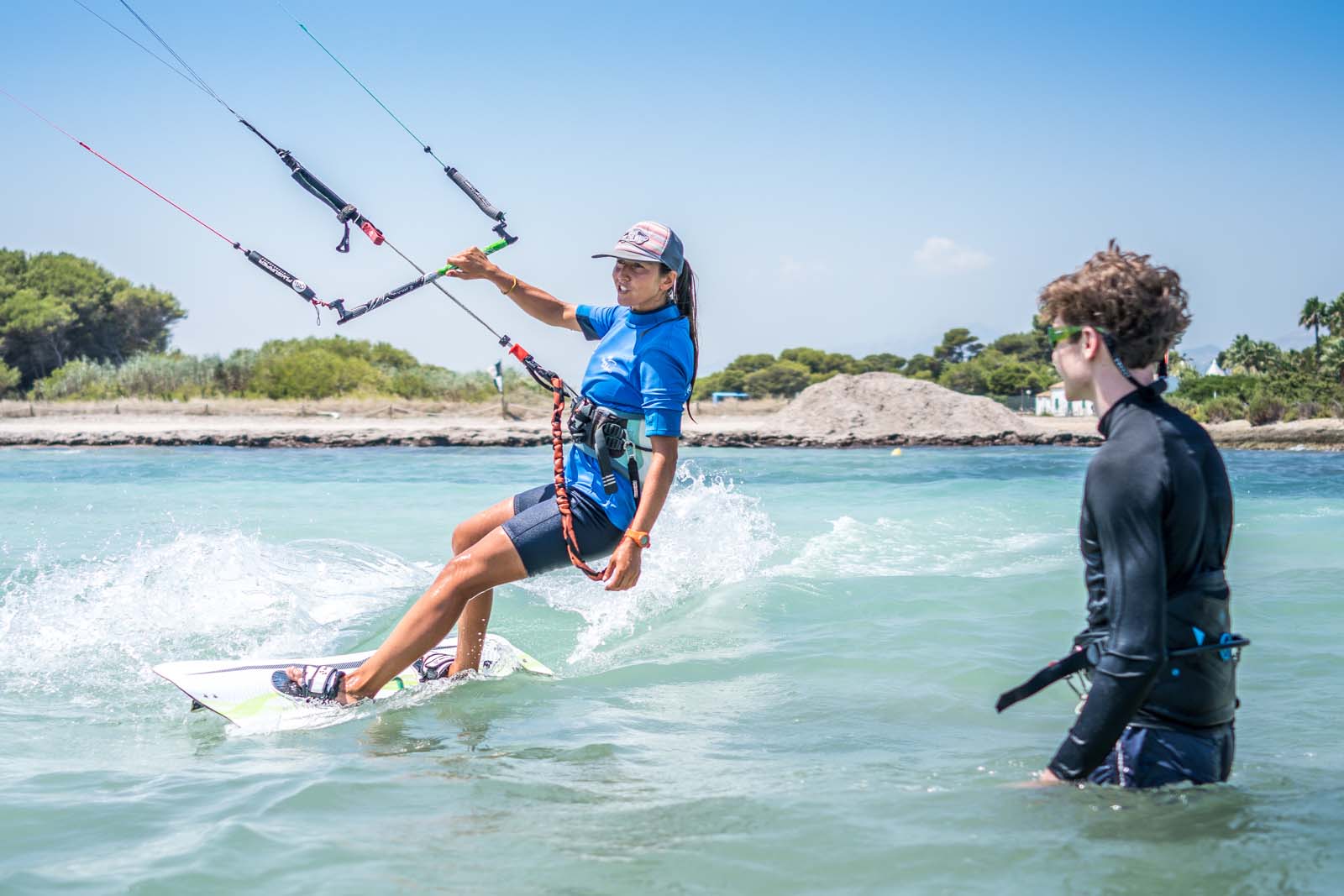 Mui Ne has two seasons, one in summer and one in winter, which result in good wind conditions for 70% of the year. Two wind directions prevail with mainly southerlies in the summer season, which runs from May to October. In the winter season, from late October to the end of March, it switches northerly with stronger and more consistent winds.
Experience jeep ride over the sand dunes in Mui Ne
Mui Ne is famous for the oceanic wind-sculpted dunes, after the kitesurfing activity. To join a Mui Ne sand dunes tour, you should book a tour from the office located in the heart of town. Usually, tourists prefer the sunrise jeep adventure than other times in a day.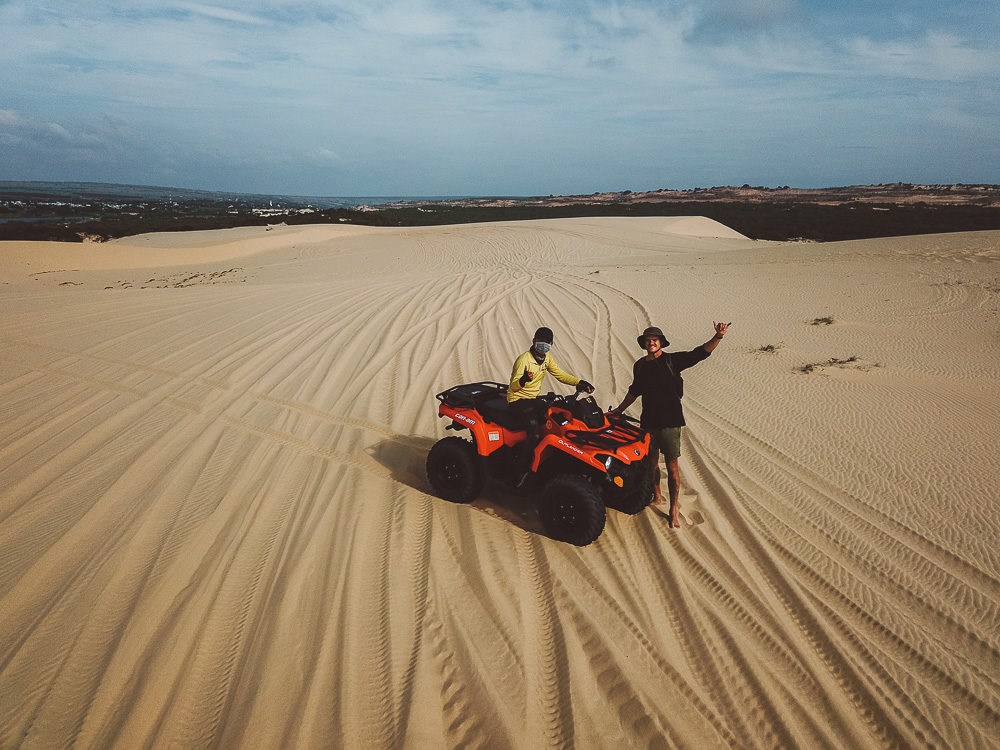 Unfortunately, Mui Ne sand dunes are flooded with tourists but don't be put off by this as there are many dunes to wander around. It is highly recommended to veer off the beaten path a little and managed to find an epic spot all to your adventure while everyone else crowded around on one of the higher Mui Ne dune peaks for sunrise.
If you want to take it to the extreme on your adventure at the Mu Ne sand dunes, there is the option to rent an ATV to thrash around in the desert dunes.
Ride a bamboo basket boat in Hoi An
The basket boat is locally named the "Thung Chai", originating from Vietnam and is valuable for the fisherman in Central Vietnam. Apart 5km from Hoi An ancient town, Cam Thanh village is a serene and picturesque fishing village. This 7-hectare water coconut woods with the unique ecosystem of water coconut trees, is a relic of the revolutionary base during the war between US army and Hoi An people. Here, you will meet a lot of warm-hearted and hospitable people who will show and teach you how to paddle the unique basket boat.
A bamboo basket boat adventure includes many interesting activities such as rowing the basket boat inside of the water coco palm forest by the small and beautiful channels, joining a basket boat racing competition, catching purple crabs with rods and nets, making Vietnamese traditional pancake "Banh Xeo", etc.
Cycle through the fertile land of Mekong Delta
Referred as "The rice bowl of Vietnam", Mekong Delta is blessed with a diversity of cultures, traditions and tropical fruit orchards. A
Mekong cycling trip
is the best option to explore the quintessence of this region. In Mekong Delta, rice paddies and orchards consume much of the arable land so houses, schools, temples and markets huddle around this maze of lanes. Rice, herbs, joss sticks and anything else that requires drying is spread out on the edges of these thin ribbons of roadway. Daily life is on show. The lanes are too narrow for cars to negotiate, so small motorbikes, cyclists and pedestrians rule the road.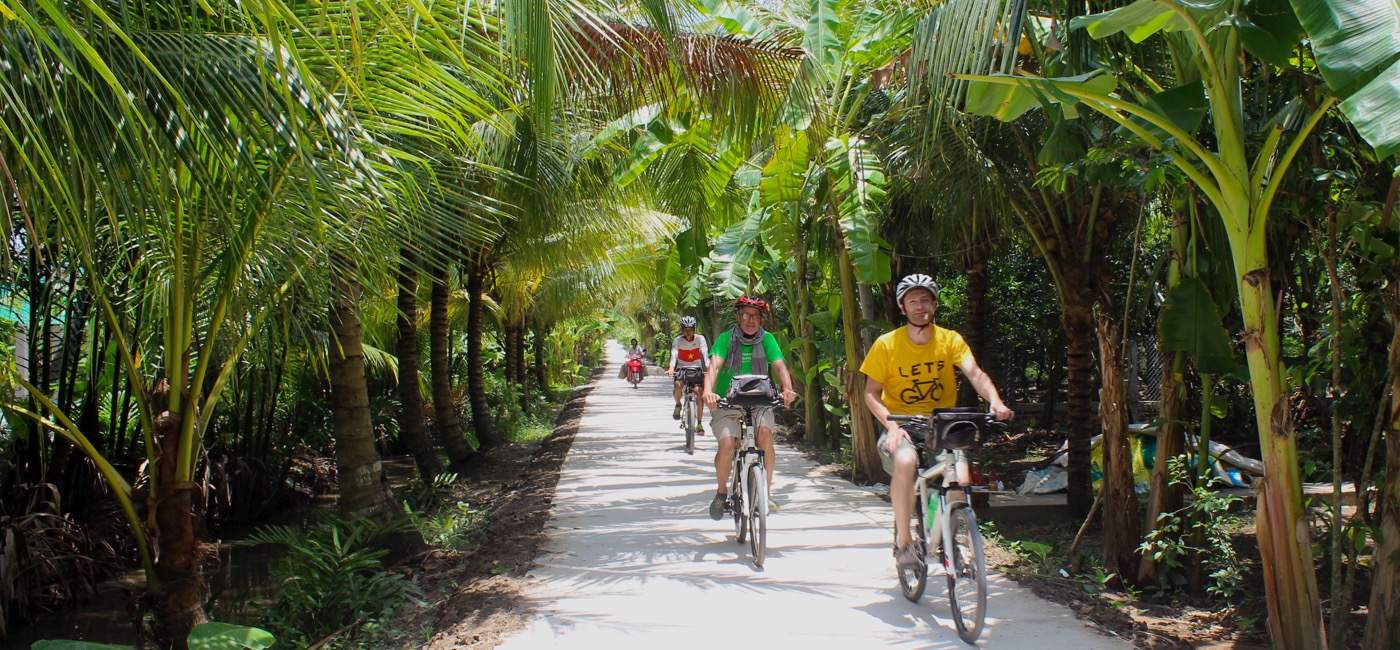 Escape from the rush of the populous cities and take a trip to the tranquil Mekong Delta Vietnam, you will have an unforgettable experience that shows you a snapshot of Vietnam's agricultural heartland.
Squeeze in the tight Cu Chi Tunnels
Cu Chi tunnels, 1.5 hour drive from Ho Chi Minh City, is a byzantine maze of underground passages, chambers and booby traps used by both the Viet Minh and the Viet Cong during Vietnam-US war. The tunnel system had become legendary during the 1960s as a strategic military base and underground community life.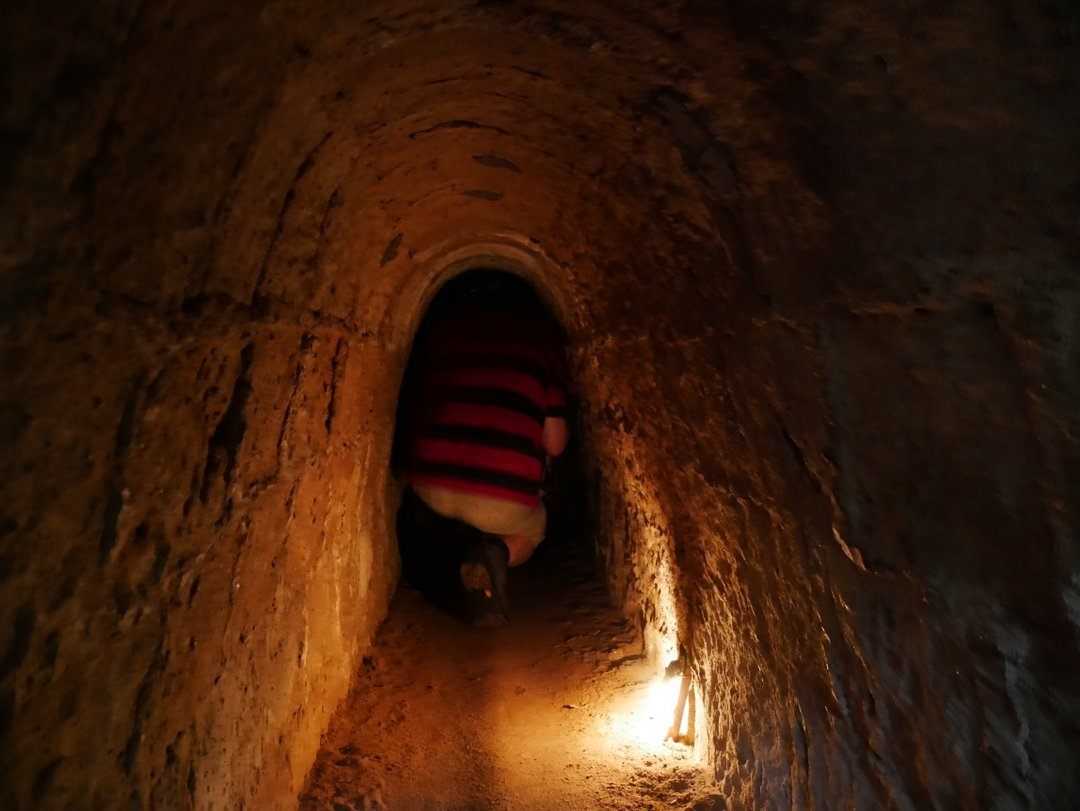 Here, you have chance to squeeze in the tight tunnels and discover how the residents can eat, sleep, get medication and education, and perform other daily activities. Be ready to live the guerrilla warfare once again!
Our epic list of adventures in Vietnam must come to an end. Of course it is difficult to show you how interesting these activities are just by words. Put them in you
Vietnam bucket list
and
contact us
for detailed advices once you determine to travel to Vietnam and do them!
Responsible Travel
Being a responsible eco tour operator is at the heart of what ACTIVETRAVEL ASIA is all about. From the start, we have been committed to offering low-impact tours that benefit traveler and host alike. We work with local communities, businesses and individuals to develop sustainable tourism opportunities that help local economies while minimizing negative environmental and cultural impacts.