TOP 8 THINGS TO DO IN DA NANG BEACH CITY, VIETNAM
Possessing a large number of interesting recreational facilities as well as Vietnam's most attractive tourist attractions, Da Nang beach city has a lot of extraordinary things to offer. Read our travel guide and find out a list of top things to do in Da Nang.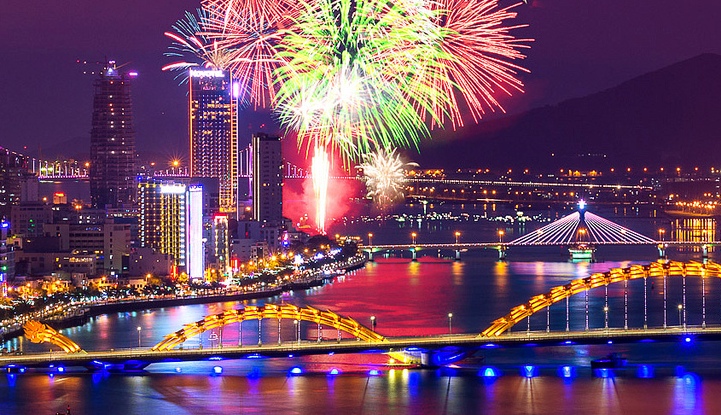 Da Nang City

Travelers usually rave about Da Nang for many reasons. Nature enthusiasts can discover the magnificent Marble Mountains or soak up some sun at an array of pristine emerald water beaches. Culture lovers can be enticed by Da Nang's religious monuments and a rich collection of Cham artifacts in the Museum of Cham Sculpture. And if all this sounds not enough, then head to Ba Na Hills and have fun at this fascinating mountaintop resort complex.

To specify how interesting Da Nang city is as well as why you should put this location in your Vietnam bucket list, check out the list of top 8 things to do in Da Nang city:
1. Visit the Religious Monuments
Da Nang is surrounded by many temples and pagodas. A lot of sacred pagodas can be found on the Marble Mountains such as Tam Thai and Linh Ung Temple. However, once traveling to Da Nang, don't miss the most remarkable Linh Ung Bai But Pagoda on Son Tra Peninsular, in which the giant Lady Buddha (The Goddess of Mercy) statue is located. Local people believe that the 693-meter statue of the Goddess of Mercy looking upon the sea with her gentle eyes symbolizes her protection to the fishermen, giving them strength to fight the harsh waves and winds.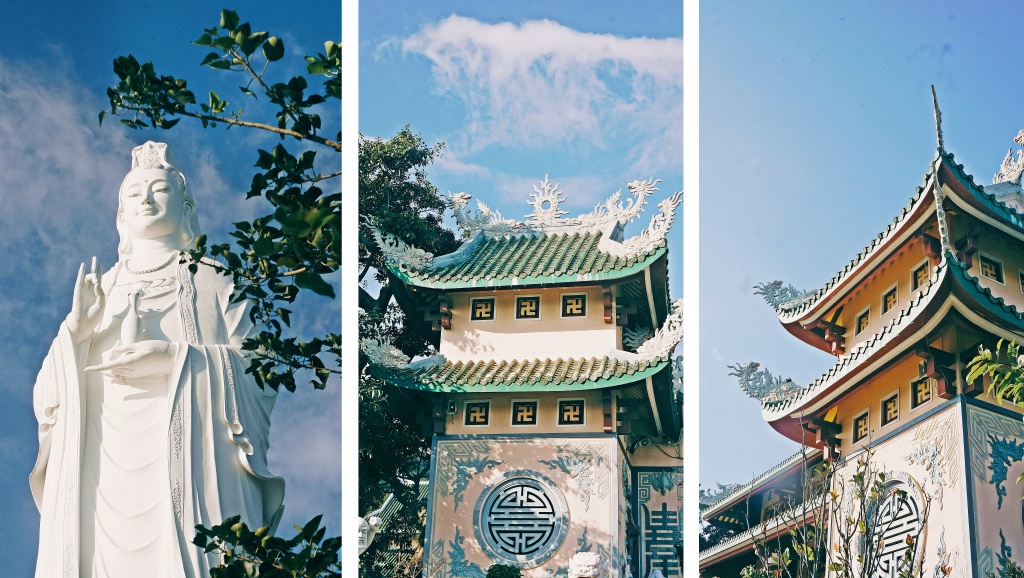 Linh Ung Bai But Pagoda

Other religious sites to visit in Da Nang include Da Nang Cathedral, famed for its pink-painted edifice and impressive gilded Cao Dai Temple.
2. Climb the Marble Mountains
Located about 10km to the south of Da Nang, the Marble Mountains is truly a heaven of all tourists who want to get away from the hustle and bustle of the city.

Marble Mountains (Ngu Hanh Son) is well-known as a pilgrimage site, comprising of five mountains made from limestone and marble. Each of them is named after the natural element, including Thuy Son (Water), Moc Son (Wood), Hoa Son (Fire), Kim Son (Gold) and Tho Son (Earth). Also, every mountain has its particular shape and is home to a host of spiritual sites such as Buddhist sanctuaries, places of worship and many mysterious caves.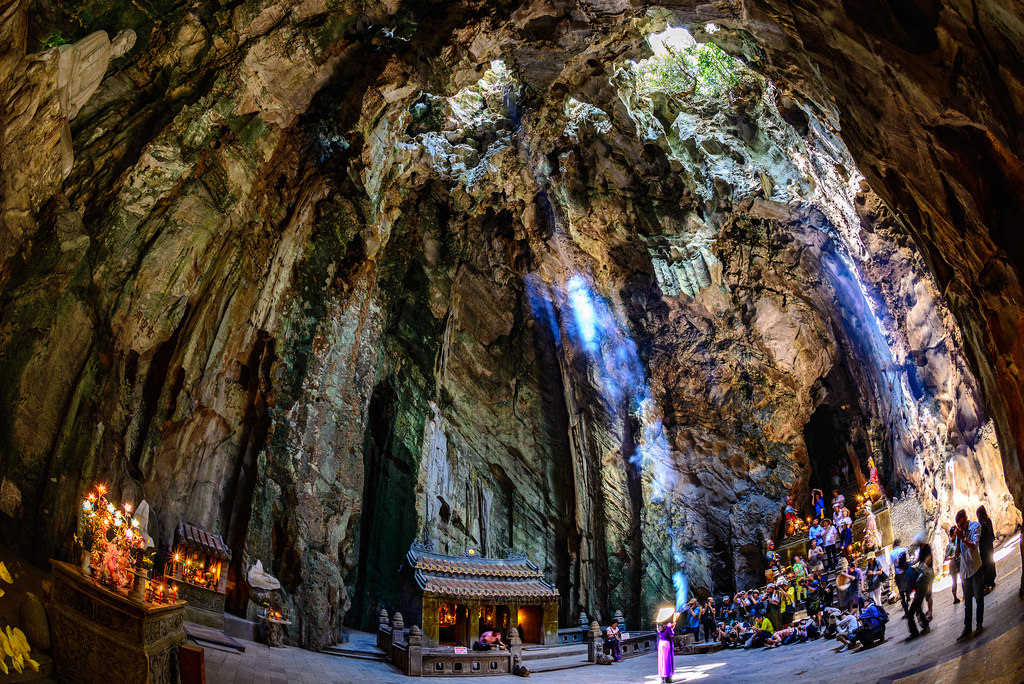 Marble Mountains (Ngu Hanh Son)

Get ready for a long climb to the highest viewing point of the mountains and you will be rewarded with a stunning 360-degrees view of Da Nang city. But if it seems too strenuous, you can take an elevator ride with the cost of 30,000 VND, inclusive of the entrance fee.
3. Have fun at Ba Na Hills
Locals say if you haven't visited Ba Na Hills, you haven't visited Da Nang.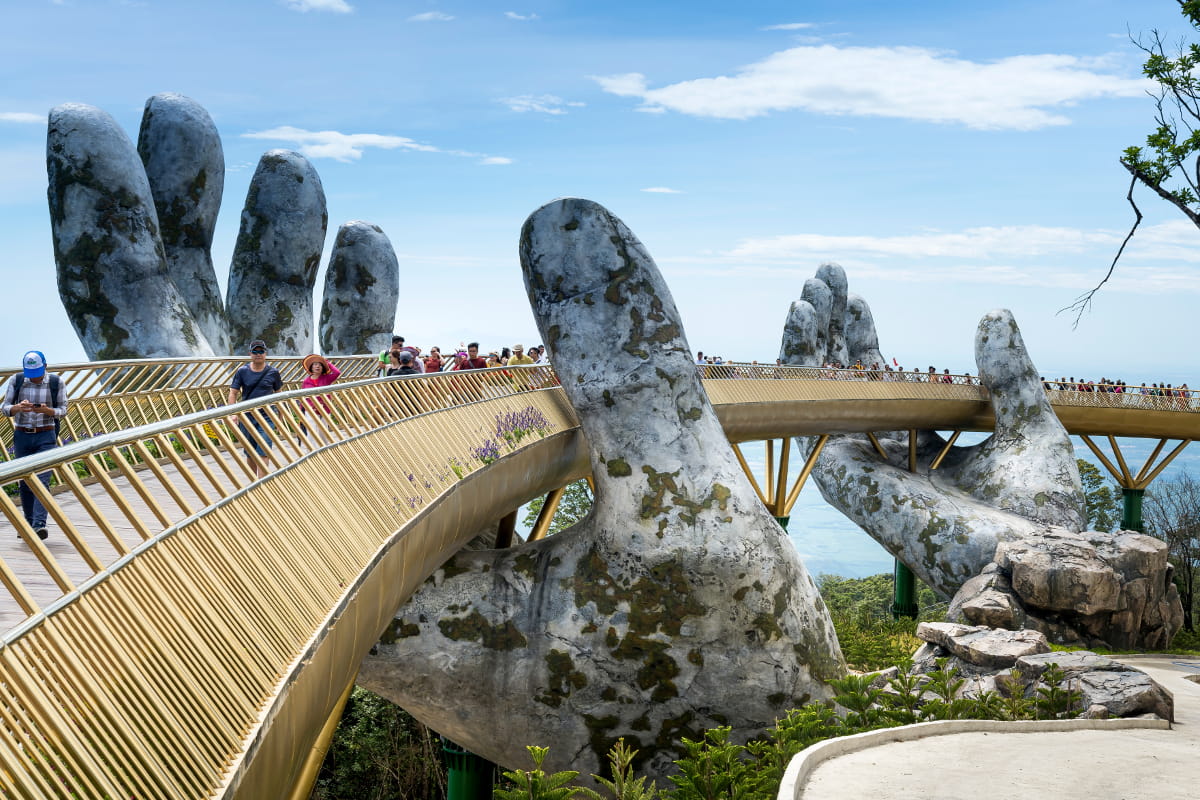 Golden Bridge, Ba Na Hills

Ba Na Hills is an eco-resort combining an interesting amusement park with upscale restaurants and villas. The climate there is perfect year-round with cool fresh air, which means at any time you travel to Da Nang, Ba Na Hills is always an ideal tourist attraction to visit.

Getting there, you not only have a chance to enjoy the glamour of the giant entertaining area but also experience the longest, highest and most impressive cable car in the world. From above, Da Nang looks like a picturesque masterpiece that anyone wishes to contemplate at least once in a lifetime.

The recreational area is designed for all ages, comprising a lot of colorful gardens and villages built in French architecture. It is always a not-to-be-missed stop for photo lovers. An indoor amusement park named Fantasy Park offers you a heap of free games, but the queue is quite long to get in.
4. Taste Vietnamese street food
Enjoy Vietnamese Central food is definitely one of best things to do in Vietnam.

It would be a huge regret if you visit Da Nang without exploring the artisanal food sold on the street. The Vietnamese culinary culture varies in terms of different regions. Don't forget to take a Da Nang street food tour in Da Nang and have a taste of many amazing Central Vietnamese delicacies such as Mi Quang (Quang Style Noodles), Banh Mi (Vietnamese Baguette Sandwich), Banh Xeo (Sizzling Cake), Nem Lui Lemongrass Skewers), Com Ga (Chicken Rice) and Bun Bo Hue (Spicy Beef Noodle Soup), etc.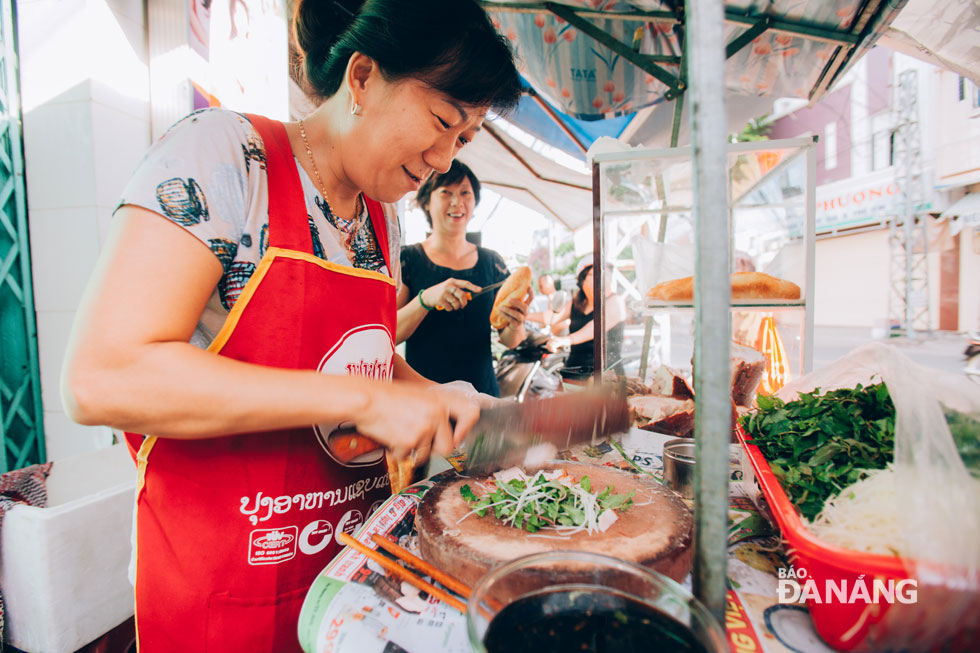 Street Vietnamese food

Moreover, Da Nang city is blessed with long stretches of beach, so you shouldn't miss the opportunity to enjoy the fresh seafood of this land. From steamed crabs, oysters grilled with onions, fried sweet snails with coconuts and other kinds of tasty seafood dishes, Da Nang can offer you a heaven-on-Earth seafood buffet.
5. Discover Son Tra Peninsula
Son Tra Peninsula is considered as "the precious pearl" of Da Nang city, also known as the Monkey Mountain. It is famous for its rich diversity of plant species and wildlife. Covering an area of 4,439 hectares, Son Tra Peninsula is not only a nature reserve offering a great view of the East Sea but it also preserves some historical relics from Vietnam War.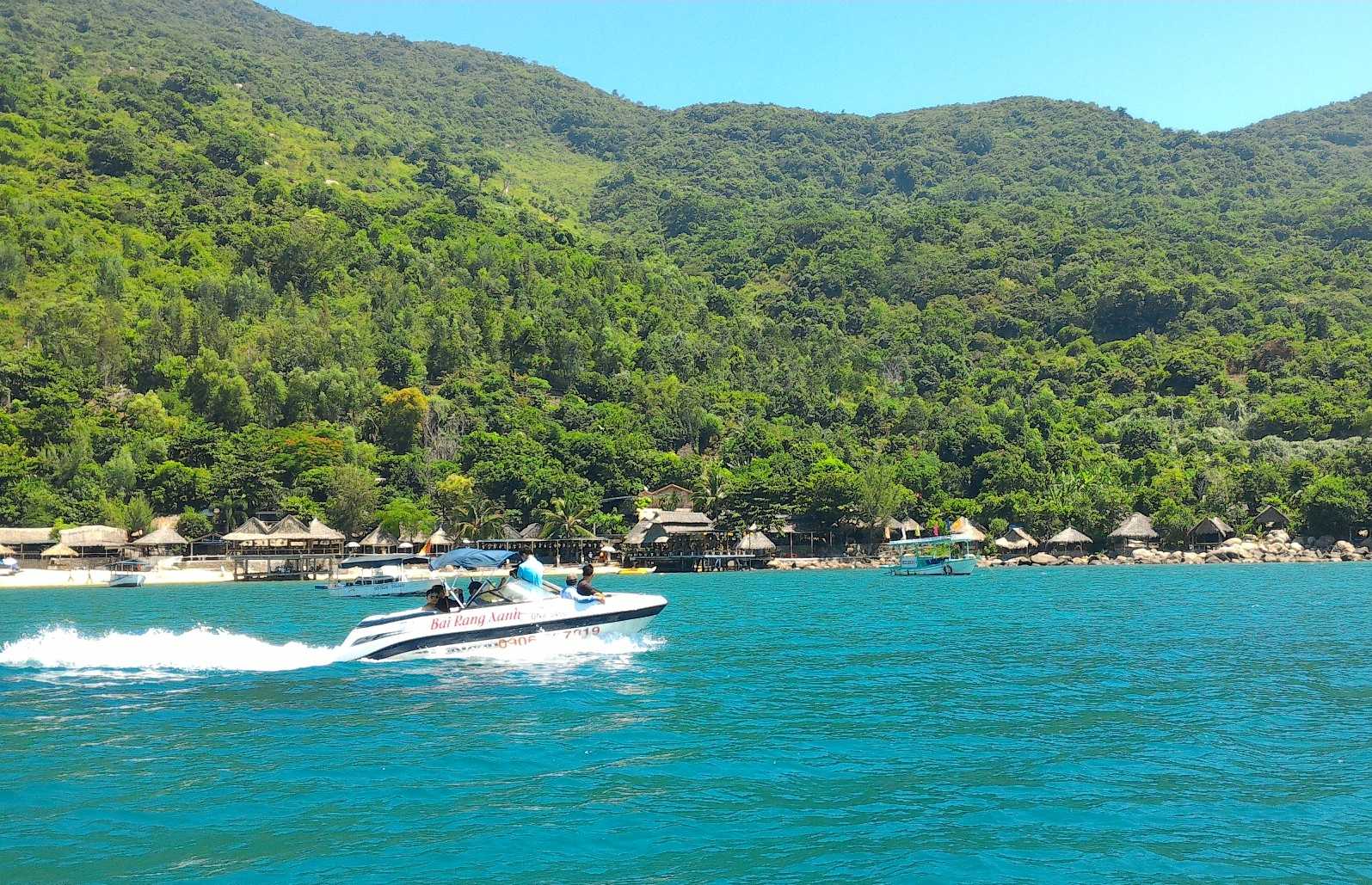 Son Tra Peninsula

Tourists usually prefer taking a Vietnam motorcycling tour to Son Tra Peninsular. But if you are confident in your driving skills, we suggest renting motobike to start your solo trip to the Peninsular. To have a perfect panorama view of Da Nang city, head to the Son Tra View Point which is considered as "Indochina Miraculous Eyes". From there, get ready to feel the breeze from ocean caressing your skin, watch the stunning sunrise in the most peaceful space ever and admire the wonderful beauty of the sea.

6. Top up your tan at My Khe Beach
Da Nang's coastline stretches about 30 kilometers and is made up of many beautiful beaches such as My Khe Beach, Pham Van Dong Beach, Bac My An Beach and Non Nuoc Beach.

My Khe Beach is voted by Forbes Magazine as one of the most splendid beaches on the planet. Located only 5km from the city center, My Khe Beach is easily accessible. With a coastline stretching 10km, lined by a white walkway and shaded by coconut trees, My Khe is an ideal destination for beach lovers and sunbathers.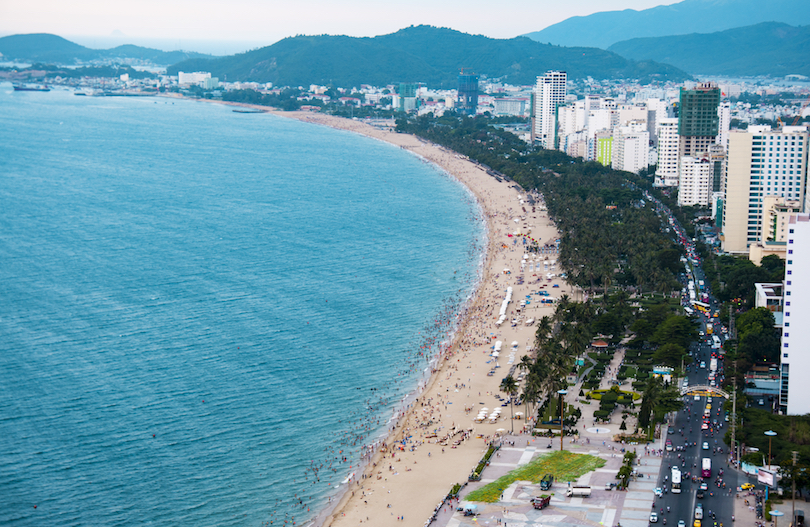 My Khe Beach

Also, besides soaking up some sun and relaxing on My Khe beach, tourists can join a great selection of water sports and activities in Da Nang beaches.
7. Explore the Museum of Cham Sculpture
The Museum of Cham Sculpture houses the world's largest collection of Cham artifacts with a total area of 6,700 sqm. It is home to nearly 2,000 multi-shaped artifacts, around 500 of which are displayed inside the museum, and the rest scattered throughout the campus as well as being safely stored and protected as well.

Constructed from 1915 and was officially inaugurated in 1919, the Museum of Cham Sculpture is the pride of the Da Nang citizens. Most existing sculptures in the museum are made from 3 main materials of sandstone, terracotta, and copper in various artistic styles, shapes, and architectures.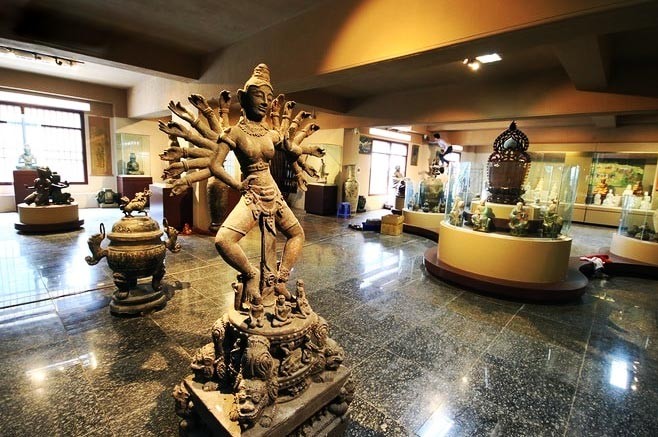 Museum of Cham Sculpture

The museum will blow your mind with a host of valuable antiques and it looks like that each work of art here keeps its own story and precarious fate like the ancient Champa Kingdom.
8. Get mesmerized by impressive architectural bridges
It can't be denied that a set of awesome bridges is one of Da Nang's most outstanding features that strike many visitors to this city. Each bridge in Da Nang possesses a different beauty and different meaning as well. They are excellent evidence for the development of Da Nang city.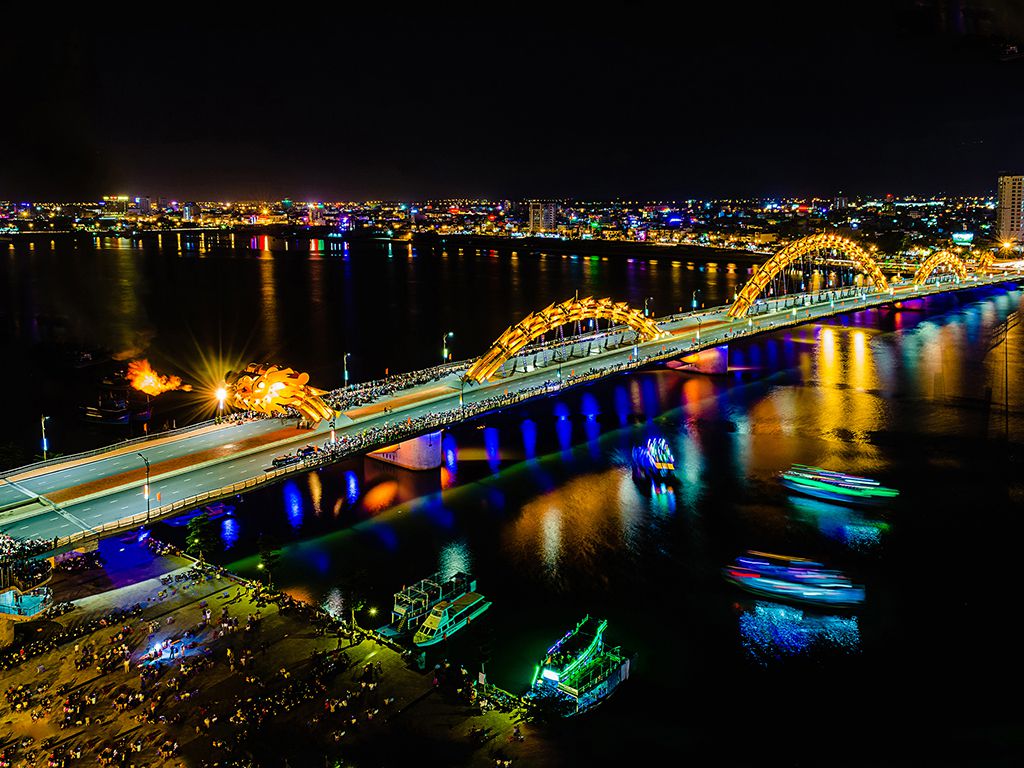 Dragon Bridge
Once traveling to Da Nang, you'd better not miss these 4 "masterpiece" bridges:
Dragon Bridge – The longest steel bridge in Vietnam, designed as the shape of a dragon which can breathe fire and water at 21:00 on Saturday and Sunday nights.
Han River Bridge – As a symbol of Da Nang city, this colorful bridge can rotate 90 degrees around the axis at 0:30 every day.
Tran Thi Ly Bridge – A poetic bridge is lightened up by thousands of colorful lights at night. From distance, it looks like a huge sail facing towards the East Sea.
Thuan Phuoc Bridge – With 1,850 meter long, it is considered as Vietnam's longest bridge. The bridge becomes at it best at late night.
As one of best places to visit in Vietnam, Da Nang will definitely bring you different emotions as well as unique experiences unlike anywhere else.
Responsible Travel
Being a responsible eco tour operator is at the heart of what ACTIVETRAVEL ASIA is all about. From the start, we have been committed to offering low-impact tours that benefit traveler and host alike. We work with local communities, businesses and individuals to develop sustainable tourism opportunities that help local economies while minimizing negative environmental and cultural impacts.