5 Day off-the-beaten-track: The suggested Ha Giang trekking itinerary
For many intrepid travelers, Ha Giang has always been a perfect destination for their trekking trips since the province still retains its idyllic natural beauty. In this post, you'll be suggested a 5-day trekking itinerary in which you'll find some of the most beautiful
Ha Giang trekking trails
to walk on.
An overview of Ha Giang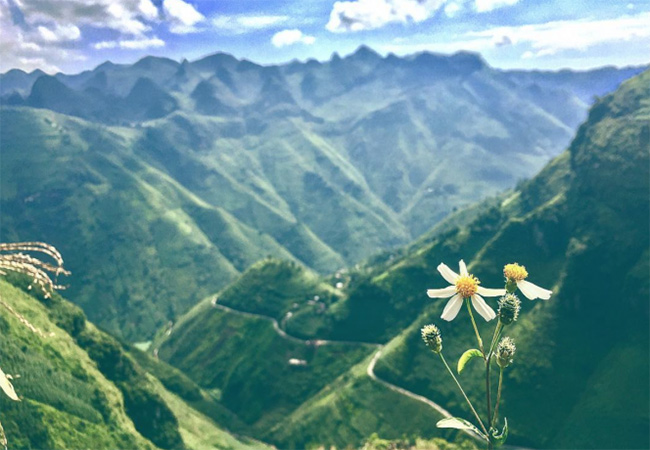 Lush green mountains in Ha Giang
Ha Giang is a poor mountainous area, located in the Northwest Vietnam, about 350 km from Hanoi. For many years, the province has been famous for its stunning landscapes, winding passes, deep abysses and huge vertical mountain ranges that you'll never find anywhere else in Vietnam. It's home to more than 20 ethnic minorities with different traditions, customs and dialects but they're living in harmony. Unlike Sapa, Ha Giang is less frequented by tourists, but the tourism here is growing quite fast.
Ha Giang is a large province and it absolutely deserves several days of explore. There are many must-come tourist attractions you should add to your list. Heading to the North of Ha Giang, you can visit Quan Ba Heaven's Gate, Dong Van plateau, H'Mong King's palace, Pao's house and Lung Cu flagpole. Alternatively, you can go to the West of Ha Giang and visit Hoang Su Phi, a less known place but offers fantastic view of terraced fields winding around lush green mountains.
Since the mass tourism is yet to affect Ha Giang significantly, the commerce here is quite undeveloped. Thus, the province's nature still retains its pristine beauty and the local people still maintain their unique traditional practices, making Ha Giang one of the ideal options to have an authentic experience of rural life in Vietnam.
How to get from Hanoi to Ha Giang
There are 3 types of transportation from Hanoi to Ha Giang: Sleeper bus, motorbikes and cars.
Sleeper Bus: You can buy the bus tickets online or at My Dinh station, Hanoi for about 200,000 vnd/ticket. It'll take you about 5 hours to reach Ha Giang but don't worry, you can take the bus in the evening, be well-rest and start to explore the province in the early morning.
By motorbike/Private car/Taxi:
The first route: Hanoi - Vinh Phuc - Viet Tri - Phu Tho - Tuyen Quang - Ha Giang.
Second route: Hanoi - Son Tay - Trung Ha Bridge - Co Tiet - Phong Chau Bridge - Phu Tho - Doan Hung - Tuyen Quang - Ha Giang.
The total distance of about 300-320 km from Hanoi to Ha Giang. Depending on the route you take, it will be about 20-30 km shorter.
The 5-day Ha Giang trekking itinerary
To explore the province to the fullest by trekking, a 5-day itinerary is a perfect duration. In these 5 days, you can walk on some of the most beautiful Ha Giang trekking trails.
Day 1: Hanoi - Ha Giang
From Hanoi, you'll depart at about 8 a.m. When you travel through Tuyen Quang province, you'll pass many tea plantations, mountains and small local villages.
You can have lunch at a local restaurant in Tuyen Quang, and you'll arrive in Ha Giang in the late afternoon. If time permits, you can make some stops along the way to explore the town and stay in a homestay of Tay people for the night.
Day 2: Trekking in local villages in Ha Giang

Local village


If you book a homestay in Ha Giang city, today you'll have to trek for about 6 to 8 hours to reach the village of Lung Vai, where you'll find the pristine Ha Giang trekking trail. Along the way, you'll have the chance to admire the stunning of countless terraced fields winding around majestic mountains and serene palm-tree forests.
Also, you'll encounter some local people from different ethnic groups such as Man and Dao while trekking around the village. Don't hesitate to wave and smile to them as they're very friendly and hospitable.
You can have a picnic lunch amidst nature before trekking to another remote village named Khuoi My. On the way, you'll see many local farmers working in the paddy fields and if you have time, you can even join them to do some farm work.
After that, you can move on to Ban Tha village and enjoy the tranquility there before coming to Nam Dam, where you can spend a night in a homestay of a Dao family.
Day 3: Quan Ba - Dong Van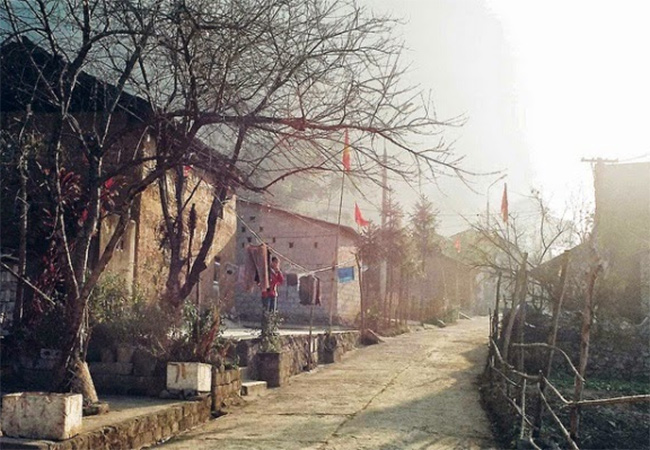 Dong Van old town
In the early morning of the third day, you'll drive from Ha Giang to Quan Ba. Quan Ba is known as "Da Lat" of Northern Vietnam as it has cool climate all year round, about 46km from the center of Ha Giang town. When reaching Quan Ba, you'll spend about 30 minutes trekking upstairs to the top of Heaven's Gate, where you'll have an incredible panoramic view of the whole town along with the famous Twin mountains below.
You can have lunch in a local restaurant in Tam Son town which is only several kilometers from Heaven's Gate. After that, keep heading to Dong Van - the most popular tourist destination of Ha Giang. On the way, don't forget to visit Pao's house and the ancient "King of the H'mong Palace" (don't worry, you'll pass both of them on the way to Dong Van).
Lung Cu flagpole is also one of the must-come places when coming to Dong Van district. It is the marking point of the North pole of the country. You can spend about 1 hour in the afternoon climbing to the top of the flagpole where you'll stand right under the 54m2 national flag and have a spectacular view of landscapes.
In the evening, you can walk around Dong Van old town, have dinner and explore the nightlife there. Don't forget to book a homestay in the town in advance as it's usually packed with tourists and many homestays are fully booked on the weekends.
Day 4: Dong Van - Meo Vac - Ha Giang
Road to Meo Vac
After having breakfast in Dong Van, pack your bags and head to Meo Vac. You'll have the chance to conquer one of the Great four passes in Northern Vietnam: Ma Pi Leng pass. To many adventurous travellers, Ma Pi Leng is considered to be the most desired pass in the North as it's full of twists and turns and the view is indescribable by words only.
The pass is only 20 km long so if you have time, you can walk or cycle on the pass to enjoy the amazing scenery you'll never find anywhere else. This stunning Ha Giang trekking trail will give you a strong sense of freedom and make you feel how incredibly small your problems are.
Also, spend some more time having a boat ride on the green Nho Que river flowing right at the foot of the pass. The experience is totally mind-blowing to any travel lovers.
After that, keep trekking down the pass to reach Meo Vac where you'll be amazed by endless limestone peaks and rocky mountains. Once you finish your trek, you can have dinner in Meo Vac town and spend a night in a local hostel there.
Day 5: Ha Giang - Hanoi
In the early morning, take a bus (or drive) from Meo Vac back to Ha Giang city. You can have some rest in the city before coming back to Hanoi in the evening.
If you want to experience the most "worth-it"
Ha Giang trekking trails
, the 5-day itinerary above is ideal for you. Hope you'll have a nice trekking trip!
Responsible Travel
Being a responsible eco tour operator is at the heart of what ACTIVETRAVEL ASIA is all about. From the start, we have been committed to offering low-impact tours that benefit traveler and host alike. We work with local communities, businesses and individuals to develop sustainable tourism opportunities that help local economies while minimizing negative environmental and cultural impacts.