A 5-day itinerary for your next Hoang Su Phi trekking tour
Unlike Dong Van, Hoang Su Phi is a less popular tourist destination in Ha Giang. It's best known among tourists for the beauty of countless terraced fields down in the valleys. If you want to get off the beaten track for some time, a 5-day
Hoang Su Phi trekking tour
is definitely a perfect option for you.
An overview about Hoang Su Phi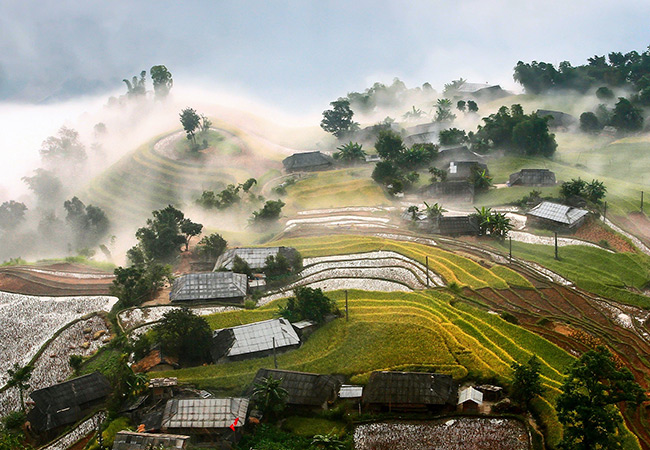 Hoang Su Phi from above
Every year, from the end of September to the beginning of October, many tourists flock to Ha Giang. They do not want to miss the breathtaking scenery when the rice on the terraced fields turns bright yellow. One of the destinations that attracts the visitors is the land of Hoang Su Phi, lies at the foot of the Tay Con Linh mount.
Hoang Su Phi is a highland district, about 100 km to the west of Ha Giang. In the past, this land originally belongs to Binh Chau, Tuyen Quang province. Currently, Hoang Su Phi has 24 communes and 1 town including 4 border communes with a total border length of more than 40km.
Since the district is located on the upper stream of Chay River so the majority of the land is mountainous with steep slopes and divided by many streams. This is a long-term settlement of people from 12 ethnic groups, of which the Nung, Dao, Tay, Mong, La Chi are the majority.
It can be said that Hoang Su Phi is one of the greatest trekking points in Northern Vietnam thanks to its spectacular and pristine scenery. When trekking around the district, visitors will be surprised to see thousands of terraced fields spread all over, winding around the hillsides and mountains. If the weather is nice, you can see the sun rays penetrate through the clouds down to the rice paddies, making the scenery incredibly charming.
THE 5-DAY ITINERARY FOR HOANG SU PHI TREKKING TOUR:
Day 1: Hanoi - Thông Nguyên - Nậm Hồng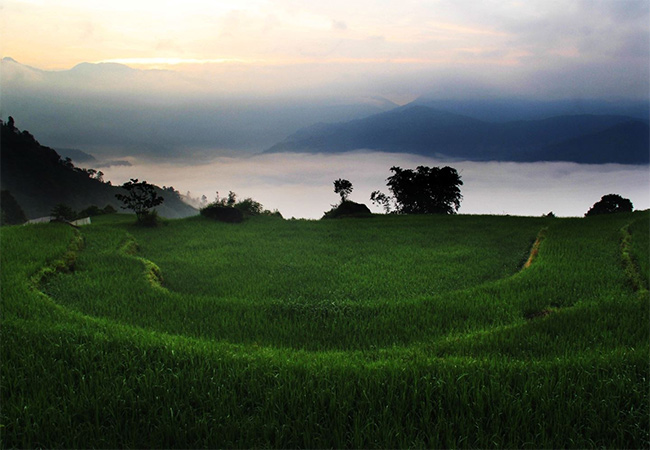 A stunning view in a local village
Located about 40 km from the center of Hoang Su Phi district, Nậm Hồng village, Thông Nguyên commune is home to 37 ethnic Red Dao households. There are terraced fields stretching on hillsides that have been recognized as national scenic spots.
From Hanoi, take a bus and travel to Thông Nguyên of Hoang Su Phi district. You can have lunch at Hàm Yên and then continue heading to Thông Nguyên.
Book a homestay in Nậm Hồng village and after leaving your bags in the homestay, you can trek around Nậm Hồng village with the natural scenery between the village mingled with the terraced fields. Don't forget to participate in making tea, making beans, picking vegetables with the local people in the village and learn to cook some traditional dishes for dinner with the Dao family in your homestay.
In the evening, you can have a bath with Dao tobacco as a relaxing way after a long day.
Day 2: Nậm Hồng - Khòa Thượng - Nậm Ai - Nam Sơn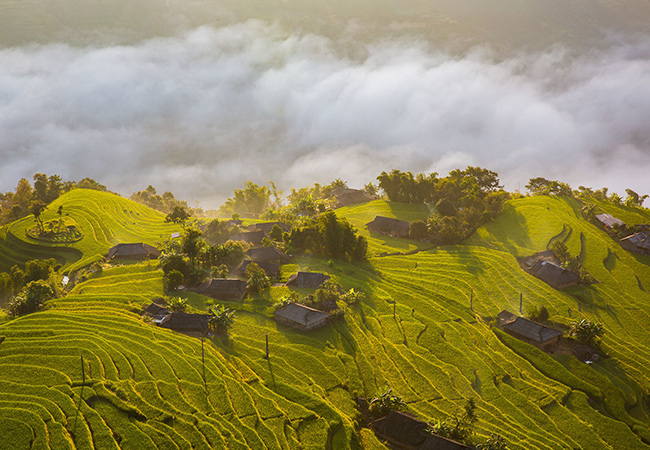 Terraced fields in Hoang Su Phi
After having breakfast, you will walk along the 7.5 km - long village road from Nậm Hồng to Khòa Thượng to admire the amazing terraced fields. You will have lunch in Khòa Thượng.
In the afternoon, you'll continue to walk to Nậm Ai village to enjoy the beauty of the terraced fields and explore Nậm Ai village, where local people have the tradition of raising cattles right under their stilt houses.
Then you can move to Lê Hông Phong village, Nam Sơn commune to find a homestay of Tày people to stay overnight.
Day 3: Nam Sơn - Hồ Thầu - Chiêu Lầu Thi

The surreal cloud ocean on the peak of Chiêu Lầu Thi
After having breakfast in Nam Sơn, keep trekking to Lùng Thàng village where you can admire the majestic beauty of the mountains.
Then, come to Chiến Thắng village for lunch break. In the afternoon, you'll trek uphill for about 3 hours to reach Chieu Lau Thi peak where you'll be blown away by the incredibly immense cloud ocean.
The peak is 2,402 meter high compared to the sea level and the trail which leads to the peak is very rugged. As a result, the trek will be quiet exhausting but once you reach the top and look down to the spectacular view below, you'll forget all the tiredness right away.
Linger on the peak and wait for the sunset if you have time. Watching the orange gold move slowly to the horizon, change to almost tangerine and merge its colour with the white cloud ocean is definitely an memorable moment that you'll want to retain for a long time.
Trek 2 km downhill and you'll see a local homestay. You can stay there for the night.
Day 4: Chiêu Lầu Thi - Hồ Thầu - Luốc village - Vinh Quang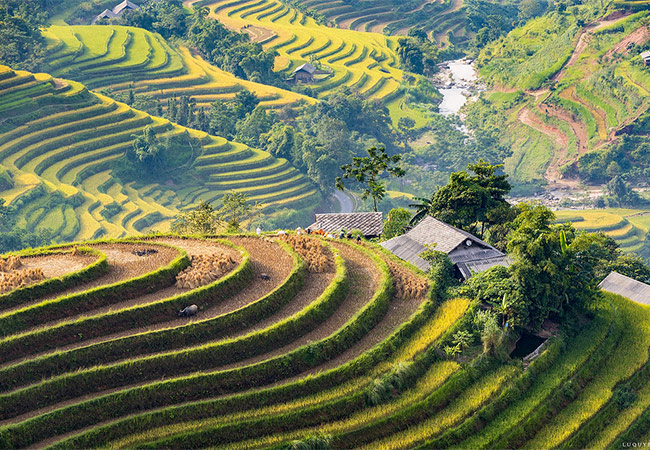 Terraced fields in a local village
After breakfast, start to trek to Luốc village. The road to Ban Luoc, though not as marvelous as the Dong Van stone plateau, is still enough to fascinate many adventurous travelers. Coming here, you'll see the ripe rice fields like soft silk strips winding around the green mountainside and the traditional stilt houses scattering at the foothills.
You will have lunch at Suối Thầu Village before getting to Vinh Quang town, where you can find a place to stay overnight.
Day 5: Vinh Quang - Ha Giang
After breakfast, carve some time to walk around the town of Vinh Quang to explore the local lifestyle and enjoy some Shan Tuyết tea, a special drink of the highland areas.
Then, come back to the homestay, back your bags and return to Ha Giang city by bus to finish your Hoang Su Phi trekking tour.
Some useful trekking tips to keep in mind:
- Always make sure to bring enough water. It's often very hot in Hoang Su Phi in the summer so you'll get dehydrated easily. Plus, there are not many stores to buy stuff from in the district as the commerce here is quite undeveloped.
- Bring enough cash with you as you can hardly find any ATMs when trekking in the local villages.
- Don't forget to bring sunscreen, raincoat, insect repellants, first-aid kit along with you.
- Always book your accommodations in advance as there are only several homestays in the villages. You'll never know if they're fully booked unless you contact the hosts. You can find the information about homestays in Hoang Su Phi on the internet.
- If you are still not very sure about the itinerary, go with a professional
Hoang Su Phi trekking tour
. You'll not miss any interesting spots with the help of a local guide.
Responsible Travel
Being a responsible eco tour operator is at the heart of what ACTIVETRAVEL ASIA is all about. From the start, we have been committed to offering low-impact tours that benefit traveler and host alike. We work with local communities, businesses and individuals to develop sustainable tourism opportunities that help local economies while minimizing negative environmental and cultural impacts.