A complete introduction about Halong Kayaking for fresh kayakers
Ha Long (Quang Ninh) is known as one of the world natural heritages and the most attractive destination in Vietnam. Each year, it welcomes about 5 million international visitors from different parts of the world. In addition to sightseeing, visitors can explore the stunning natural surroundings by
Halong Kayaking
activity.
A BRIEF OVERVIEW ABOUT HALONG KAYAKING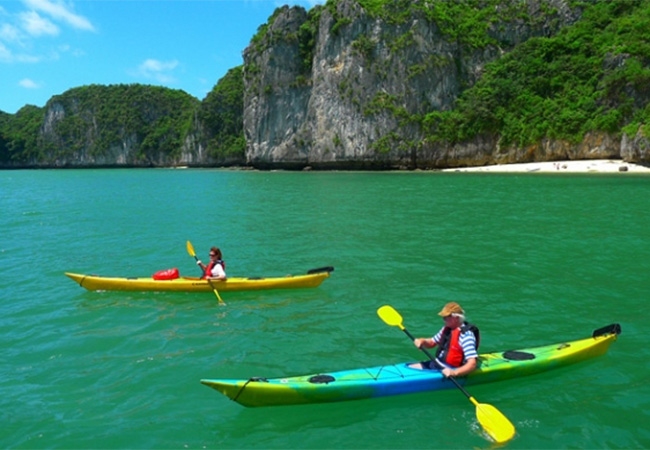 Kayaking in Halong Bay
Ha Long is recognised to be one of the top 25 kayaking destinations in the world in 2000 by National Geographic Adventures magazine. In fact, kayaking has appeared in Halong as a form of discover since the early years of the 90s and 20th century. At first, kayaking in Halong Bay was mainly popular among adventurous foreign tourists but later, more and more domestic tourists have participated in this exciting outdoor activity, especially young people.
Unlike other expensive means, Halong kayaking is affordable to the most of the tourists, more convenient and above all, more exciting. It's a great way to discover the spectacular beauty of Halong's nature as you can paddle to any caves can't be accessed by boat. You can hand stroke the thousand-year-old stalactites which have various bizarre shapes and sizes inside the caves while kayaking.
When kayaking in Halong Bay, you can challenge yourself by kayaking in the low caves where you'll have to cling to the top of the caves and push the boat forward, and sometimes you'll even have to lie down on the boat to be able to go through the caves. However, if you aren't experienced in kayaking, you should avoid the low caves as they're quite dangerous for the amateurs.
If you are planning to travel to Halong, try kayaking in Halong Bay to visit the fishing villages such as Vung Vieng and Cong Dam and discover the beautiful scenery on the Bay as well as the lifestyle of the people here.
WHICH ARE COMMON TYPES OF KAYAKS IN HALONG BAY?
There are various types of kayaks, but these are the three common types used in Halong bay: Kayaks made from composite plastic, molded rubber and inflatable kayaks. Now, you might be confused of which type to choose. Here are some straightforward suggestions you should know before hiring a kayak for your next trip in Halong bay:
Recreational kayak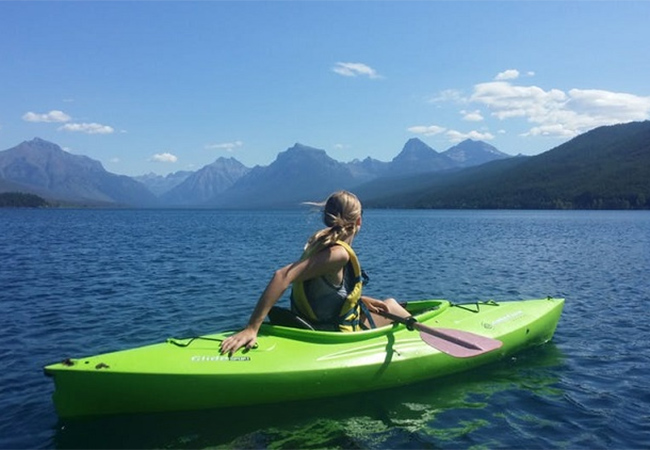 Recreational Kayak
This is a type of kayak that is designed for casual paddlers who just want some recreation on calm and gentle water. It's suitable for kayak beginners to go around Halong bay, visit fishing villages and explore large caves.
Day touring kayak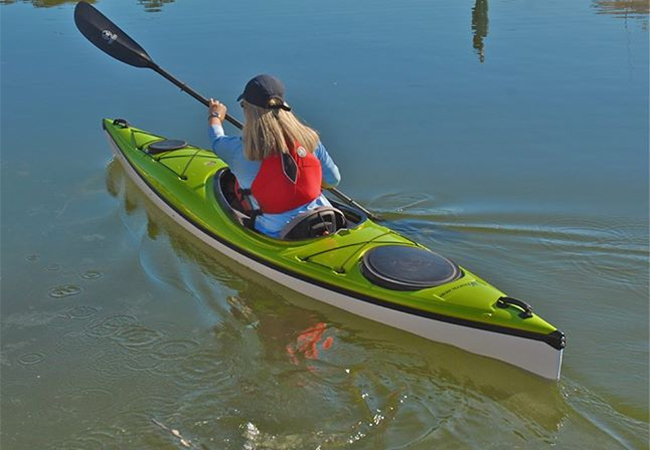 Day touring kayak
Day touring kayak is designed to increase lifting capacity when encountering waters and hence increase safety for kayakers. The storage of a day touring kayak is suitable for a full day trip.
Sit – on - top kayak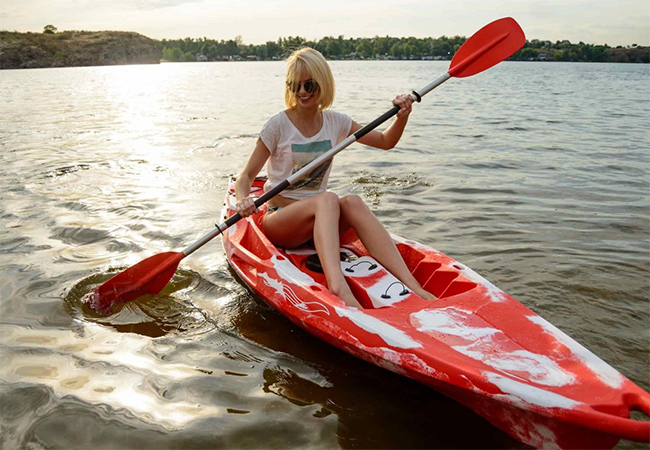 Sit on top kayak


This type of kayak has a closed body and empty holds to sit so that it is easy to step on and off. This is a big reason why a lot of people love kayaking on a sit-on -top. This type of kayak suits best for children, beginners and even swimmers. It is also the most commonly-used type found in Halong bay.
BEST SPOTS FOR HALONG KAYAKING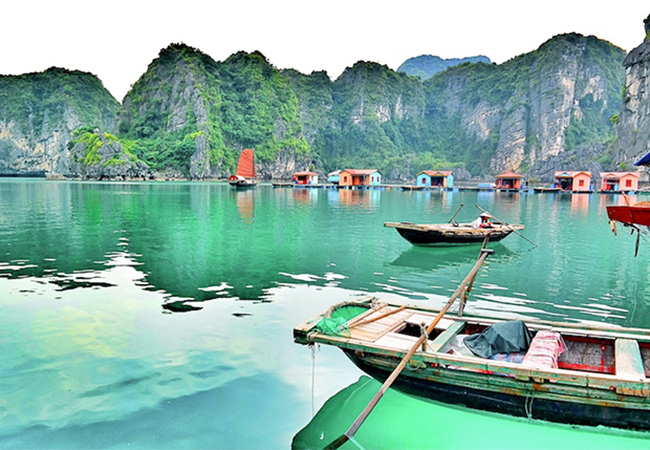 Fishing village in Halong Bay
Halong is a large region, including Halong Bay, Bai Tu Long and also Lan Ha Bay. Therefore, the best kayaking spots will vary depending on the Bay you choose.
For example, if you choose to kayak in Bai Tu Long Bay, the most popular choice is to kayak through Luon Cave which is also like an entrance gate. After passing through Luon Cave, you'll find yourself coming on one of Halong's fishing villages, Vung Vieng fishing village. You can experience some activities of the local fishermen such as knitting nets, feeding fish and cooking on the raft.
If you choose to remain within Halong Bay, you'll have various routes to take by kayak, from sandy beaches to some of beautiful caves and tunnels. Below are some areas you should paddle to:
Ho Dong Tien Area
Trinh Nu Cave
Cong Do Area
Tung Sau area
Co Cave area
WHERE TO RENT A KAYAK IN HALONG BAY?
Halong kayaking activity is usually included in a Halong Tour. However, if you want to arrange your own Halong trip, you can contact these travel agents below to rent a kayak:
Hang Luon Area
Name of agent: Nam Tung single-member limited liability company
Address: 102 Huynh Thuc Khang, Hong Hai District, Halong city
Phone: 0935.226.888
Renting price of kayak: 50.000 VND/round/2 people
Ba Hang Area
Name of agent: Con Do Co Tich Cooperative (Fairy Boat Cooperative)
Address: Number 225, group 7, area 2, Hung Thang District, Halong city
Phone: 0989.883.110
Renting price of kayak: 40.000 VNĐ/one person
Cua Van Area
Name of agent: Hải Phong Halong joint stock company
Address: Number 3, Lane 65, Nguyen Van Cu street, Hong Ha district, Halong city
Phone: 0978.781.423
Renting price of kayak: 100.000 VND/kayak/1 hour
Vung Vieng Area
Name of agent: Van Chai Tourism Service Cooperative
Address: Number 269, Group 5, Area 5, Bai Chay District, Halong city
Phone: 0936.451.823
Renting price of kayak: 50.000 VND/one person/1 hour
We recommend you to take the
Halong Kayaking Tour
so that you'll save your time of looking for a good place for renting kayaks.
SAFETY TIPS AND PREPARATION FOR HALONG KAYAKING

Halong Kayaking safety tips


- First things first, always wear a life jacket: This is certainly the most important safety tip we can give you. Although wearing a life jacket is uncomfortable when kayaking, it can help you cut your risk of dying in case the kayak capsizes.
- It's better check the weather forecast before going and dress warm enough as it's often colder when you're in the middle of the Bay. Even overdressing is better than being freezing while kayaking. On sunny days, don't forget to wearlong sleeves and a hat to protect your skin from the sun. If rain is predicted, bring a rain coat and dry bag to keep your belongings in.
- Follow the boating rules and of course, listen to your tour guide carefully: Please keep a suitable distance with other kayaks, not too close nor too far so that your kayak will not collide with others' ones and you'll not get lost. And if your tour guide tell you to avoid some certain areas, just don't come close to those areas!
- In case the kayak capsizes, don't panic. You might have to swim a bit (or if you don't know to swim, just let yourself float on the water) and the tour guide will quickly take the water out of your kayak. After that, you can get into the kayak again.
Responsible Travel
Being a responsible eco tour operator is at the heart of what ACTIVETRAVEL ASIA is all about. From the start, we have been committed to offering low-impact tours that benefit traveler and host alike. We work with local communities, businesses and individuals to develop sustainable tourism opportunities that help local economies while minimizing negative environmental and cultural impacts.