Obtain visa to Cambodia
Before you want to travel to any country, you need to find out information about that country such as paperwork, accommodation, and transport… There are many things you need to care. And the first thing which help you to come to foreign country is obtaining visa. The article below will provide you some necessary information for people who want to obtain tourist visa to
travel to Cambodia
.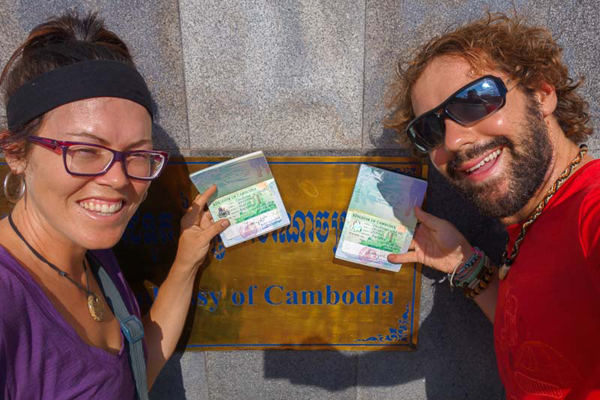 Most countries, such as Australia, US, and UK etc, require a visa to visit Cambodia. Cambodia issues tourist visa in three main ways: online, by mail, in person at the Cambodia embassy or consulate in the country of residence, and the most Cambodian entry points such as border crossing and airports. A Cambodia tourist visa is valid for a period of three months beginning from the issue date. It is good for a single entry for a duration of 30 days staying in the Kingdom of Cambodia. The tourist visa may be extended for a maximum period of one month.

The most popular and inexpensive way to get Cambodia Visa is Visa upon Arrival. Visa on Arrival can be obtained at the Visa Counter upon arrival at Cambodia International Airports in Phnom Penh, Siem Reap and Preah Sihanouk. Following steps will guide you to obtain it.
a)

Please provide the following information for us to apply for your visa.
All Foreign Visitors are now able to obtain the Cambodia visa upon arrival at the airport. It is no longer necessary to get the visa stamp at the Cambodian Embassy before your visit. Just prepare the following documents:
Application for a tourist visa requires:
A completed visa application form

Passport with at least 6 months validity

One recent photograph (2 inches x 2 inches)

Appropriate visa fee (US$35)
Important: In order to be admitted into the country, tourists may need to demonstrate that they have sufficient funds for their stay and a return ticket.
b)

How long does it take?
It usually takes five business days for regular process to get the "Visa Approval Letter" which we will send you via mail. What you need is to print it out and take it along to get the stamp at airports/borders.
Upon arrival, you will need to fill in a certain form with your personal information, get the stamp and visa will be done. For this process, you will need to prepare One recent photograph (2 inches x 2 inches) and US$35 in cash which is stamping fee.
Cambodia Visa Validity: 3 months from the date of issue, *NOT* from the date of entry.
The Cambodia Visa is issued officially at the following ports of entry:
By Air: Pochentong Airport in Phnompenh, Siemreap Airport (Angkor Wat Region)

By Land: Travelers can travel to/from Cambodia by land through Aranyapathet-Poipet Border and Trat-Koh Kong Border of Thailand and Moc Bai - Bavet Border of Vietnam
Duration of Stay: 30 days for single entry
Visa Extension: The Tourist visa can be extended for one month only at the Immigration Department in front of Phnom Penh Airport. Travelers who would like to prolong their stay in Cambodia may extend their visa at the Department of Immigration situated just opposite the Pochentong Airport. The visa may be extended for 30 days at the cost of USD 25.
Cambodia Visa Exemption list:

VISA EXEMPTIONS
| | | |
| --- | --- | --- |
| | Countries | Duration |
| Diplomatic Passport | Service Passport | Regular Passport |
1

Brunei Darussalam

14 days

14 days

x

2

Indonesia

14 days

14 days

30 days

3

Lao PDR

30 days

30 days

30 days

4

Malaysia

30 days

30 days

30 days

5

Myanmar

30 days

30 days

x

6

Philippines

30 days

30 days

21 days

7

Singapore

30 days

30 days

30 days

8

Thailand

30 days

30 days

14 days

9

Viet Nam

30 days

30 days

30 days

10

Bulgaria

90 days

90days

x

11

Cuba

During Mission

x

12

The People's Republic of China

30 days

30 days

X

13

Hungary

90 days

90 days

X

14

India

60 days

60days

X

15

The Republic of Korea

60 days

60 days

X

16

Peru

30 days

30 days

x

17

Russia

During Mission

x

18

Slovakia

During Mission

x

19

Iran

30 days

30 days

x

Disclaimer: The Visa information and exemption are often updated, obtaining valid Visa prior departure is travellers' responsibility. Please kindly check with your most convenient Embassy/Consulate or Contact Us to be clear.
Responsible Travel
Being a responsible eco tour operator is at the heart of what ACTIVETRAVEL ASIA is all about. From the start, we have been committed to offering low-impact tours that benefit traveler and host alike. We work with local communities, businesses and individuals to develop sustainable tourism opportunities that help local economies while minimizing negative environmental and cultural impacts.