Paragliding in Vietnam: Everything You Need To Know About Paragliding
Travelers usually rave about Vietnam's magnificent natural beauty, rich culture along with unique traditional lifestyle from North to South. Furthermore, by motorbike or on tours is the typical way most travelers choose to discover those features.
However, there is alternative transportation to get a splendid bird's eye view of the stunning landscapes. Have you ever wondered what it's like to fly, to feel nothing but the air beneath you and the wind taking you on a journey? Of course you have! It's everyone's fantasy dream as a kid, but with paragliding, it's as close as you get a real thing!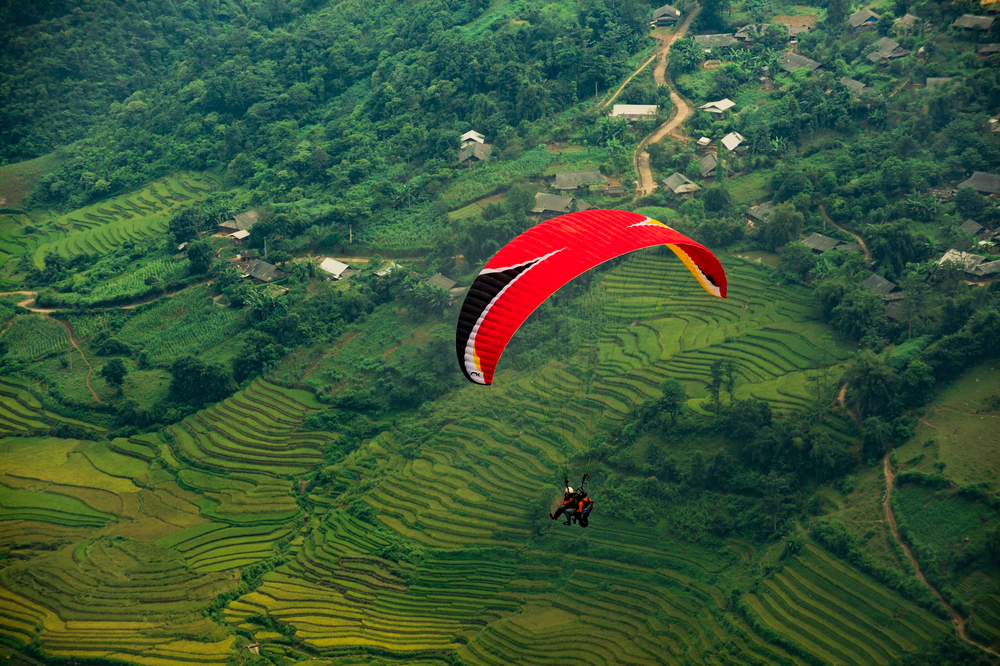 Paragliding in Vietnam
Following is a comprehensive paragliding guide and a list of top 5 breathtaking places to try paragliding in Vietnam and make your fly dream comes true!
Important Tips for a Safe Paragliding
For anyone who wants to fly but don't get any paragliding experience:


If you don't have the paragliding techniques, you will need a tandem paragliding. This means doing a flight with a guide. You will be loosely harnessed together then you'll both need to jog for take-off. Once you're airborne, you'll be in the seated position with your guide sat behind you (you'll pretty much be sat on your guide's lap). Your guide will tighten you into position in the harness and then away you go!

For anyone who desires to learn and experience paragliding by themselves. Here are some essential tips before, while and after going for a glide:


A canopy parachute is required for the purpose of paragliding in Vietnam; and with the help of wind and gravity the person can keep sailing for a long time. But the take-off and landing are considered to be the most difficult parts and thus cause the maximum number of accidents.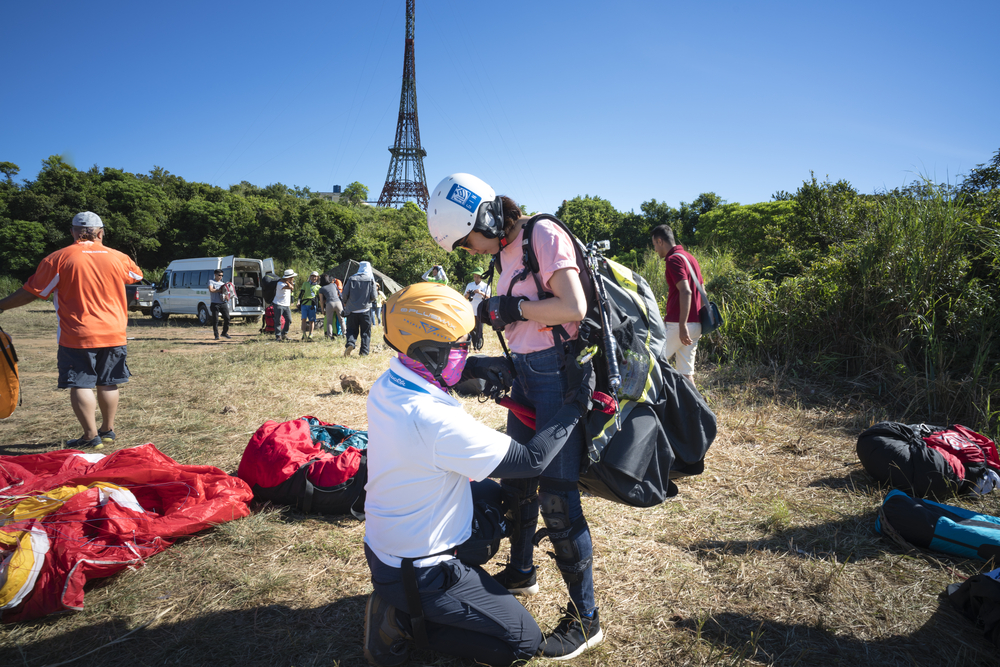 As of that, you need to be trained before going for a glide. Take note of these paragliding guides which can help you experience this activity perfectly and safely.
You have to be equipped carefully to fly. This will include wings, harness, variometer, radio and global positioning system, etc. Just consult your instructor for detailed paragliding guide about the equipment and take his advice before buying any of them.
The weather is the most important thing. Never go for paragliding in Vietnam when it is raining or under any other bad weather conditions. Never fly when the wind measures more than 25-30 mph speed-wise.
Be careful with the place where you will be practicing. You should not run on a slope of more than 15 degrees to take off as it will create problems in controlling the balance. Just clear up obstructions so as to avoid accidents at the time of taking off. If you are required to run on a slope, speak to your instructor for any doubts.
Most accidents are observed at the time of landing, thus the landing site should be clear. In case of emergency landing, try and look out for trees. No doubt they will hurt you but will also reduce the risk of fatality.
Always carry a sharp object, like a knife, as it will help you in an emergency if you are entangled in wires.
Take all the safety gear in order to be safe at all times. Helmets are especially compulsory as a head injury can be fatal.
Keep these paragliding guides in mind and you can go for a safe glide. If anything goes wrong while you are gliding, keep calm and use your sense to get out of the problem as there are no advanced techniques to improve the glide. And of course, your common sense will be activated while training with the instructors.
Top 5 best places for paragliding in Vietnam
Bu Hill (833), Hoa Binh Province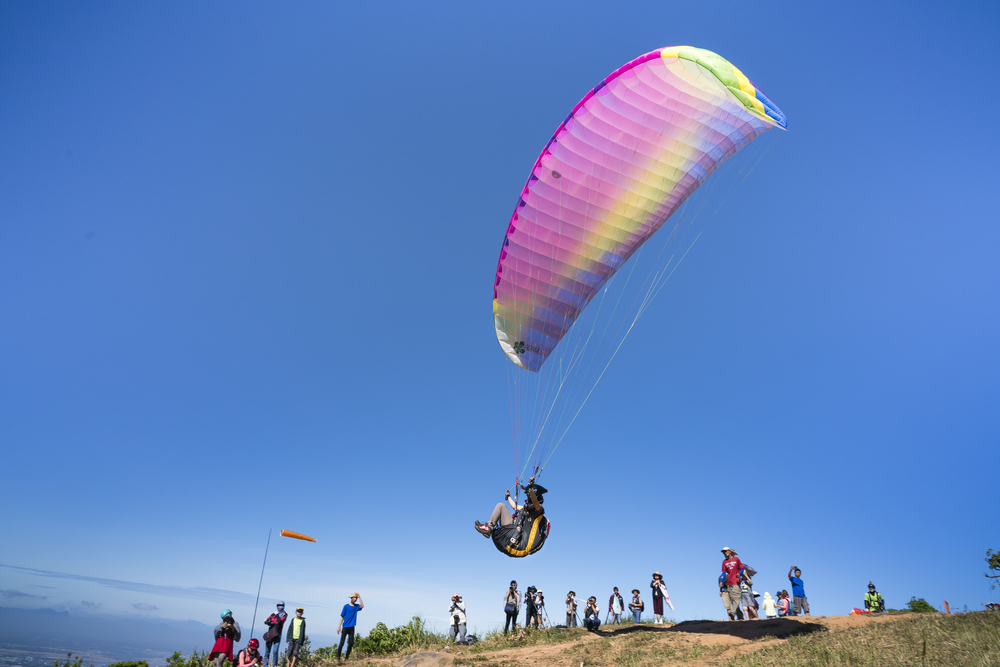 Paragliding in Bu Hill (833)
Bu Hill (833), just 40 km from Hanoi to the Southwest, has an altitude of 633m. It is a beautiful mountain range with the gentle slopes of about 1.5km in length, which is a good condition for travelers to experience paragliding. The road to Bu Hill is truly severe with steep slopes and winding turns, only the local experienced drivers are able to pass this way. As of that, it is highly recommended that you should
book a paragliding
tour to reach Bu Hill. For advanced technique pilots, Bu Hill is not really an ideal destination for paragliding, it is better for the beginners and tandem paragliding.
Takeoff coordinates: 20.8086, 105.5686
Takeoff elevation: 620m
Landing elevation: 65m
Takeoff direction: North


Mount Bai Nha, Hoa Binh Province (altitude 423m)
Another destination totally wonderful to go paragliding in Vietnam is Bai Nha Mountain, situated at Ngoc Son Commune, Lac Son District, Hoa Binh Province. XC flying is most suitable at Bai Nha because the thermal is always stable. Experts agree that Bai Nha is the best paragliding spot of not only Vietnam but also Southeast Asia.
Takeoff coordinates: 20.4421, 105.3826
Takeoff elevation: 480m
Landing elevation: 60m
Takeoff direction: North


Mu Cang Chai, Yen Bai Province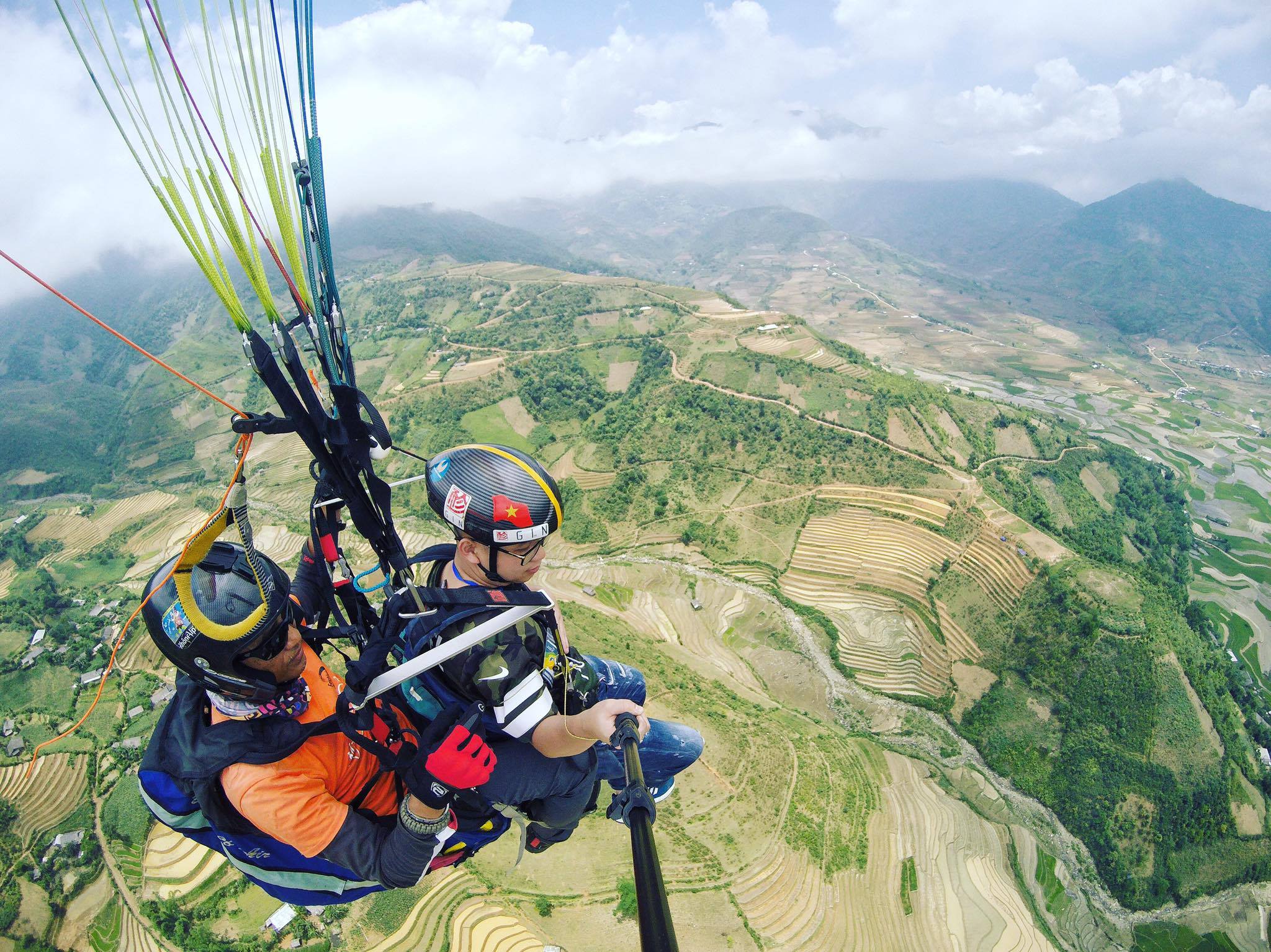 Paragliding in Mu Cang Chai
Apart 280 km from Hanoi, Mu Cang Chai, a mountainous district of Yen Bai Province is designated as one of the best places for paragliding in Vietnam. Mu Cang Chai offers a brilliant view with vast terraced fields. The rice terraces of Mu Cang Chai demonstrate the ingenuity of the human hand in the mastery of nature to create the unique beauty that captivates the heart of all travelers. To reach Mu Cang Chai, you will pass Khau Pha Pass, one of Vietnam's 4 most hazardous passes at a height of about 1,270m ASL. According to the evaluation of both domestic and international pilots, Khau Pha Pass is one of Vietnam's 4 best destinations for paragliding, in terms of weather condition as well as natural and human landscapes.
Takeoff coordinates: 21.75533, 104.26593
Takeoff elevation: 1262m
Landing elevation: 774m
Takeoff direction: East and northeast


Son Tra Peninsula, Da Nang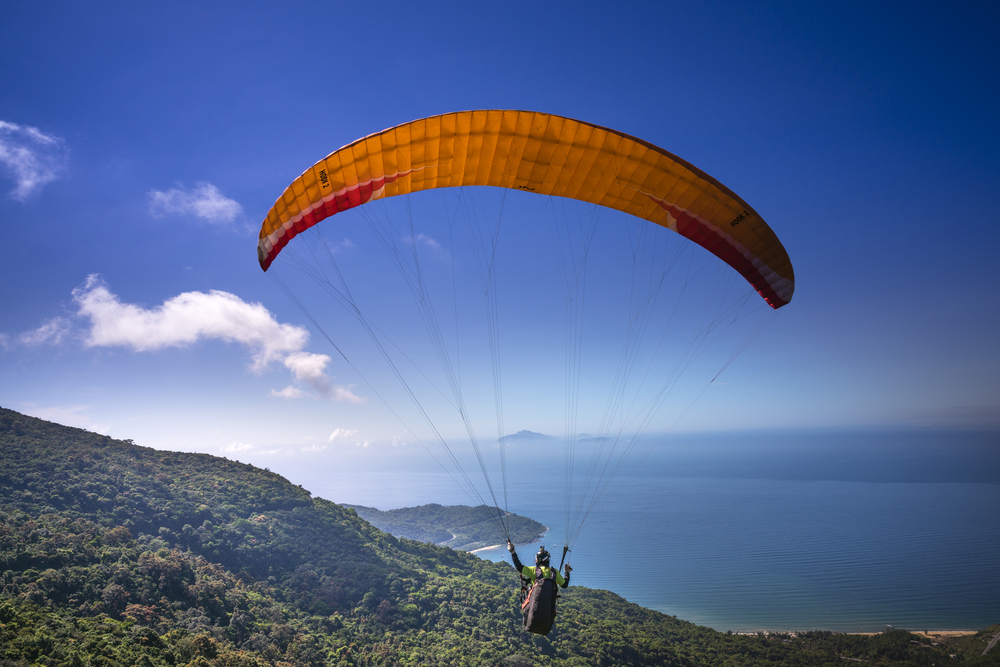 Paragliding in Son Tra Peninsula, Da Nang
Travelers to Da Nang are so familiar with Son Tra, a peninsula in the south creating a seductive and beautiful bay. Paragliding here, you get a chance to admire the wonders on the high mountains, rolling clouds, lush forest strips on the high mountain bends stretching to the edge of the sea, making up a vast ecoregion. Location landing is usually Tho Quang beach at foothills of Son Tra or Pham Van Dong beach.
Takeoff coordinates: 16.1179, 108.2738
Takeoff elevation: 600m
Landing elevation: 0m
Takeoff direction: Southeast


Mount Hon Hong, Phan Thiet
Mount Hon Hong (Pink mountain) is located very near to the famous tourist spot Mui Ne, about 45 kilometers away from the center of Phan Thiet city. With a height of 235 m, many pilots come here to practice and also enjoy the wonderful scenery of Mui Ne. The takeoff site is flat, on sand dune and near the beach, enough space for 10 open canopies at the same time. Hon Hong offers ideal conditions for beginners to paragliding in Vietnam.
Takeoff coordinates: 11.0352, 108.4039
Takeoff elevation: 200m
Landing elevation: 0m
Takeoff direction: South, Southeast


We have listed a detailed paragliding guide above for paragliding lovers in Vietnam. Hopefully, it is useful for your thrilling experience. For more detailed advice,
contact us
to plan
a paragliding trip in Vietnam.
More guide...
Responsible Travel
Being a responsible eco tour operator is at the heart of what ACTIVETRAVEL ASIA is all about. From the start, we have been committed to offering low-impact tours that benefit traveler and host alike. We work with local communities, businesses and individuals to develop sustainable tourism opportunities that help local economies while minimizing negative environmental and cultural impacts.