Suggested itinerary for Mekong Delta cycling tour
Mekong Delta is known as a River of Nine Dragons, featuring the important culture of South Vietnam. Complex canal system criss-crossed by the green forests and islands of Mekong Delta has formed the diverse ecosystem, creating a lot of fascinating sceneries. Usually, cycling is the most popular activity in the Mekong tour which brings you unique cultural identities. Below is our suggested itinerary to the Mekong Delta's highlights. Consult our travel guide to plan your upcoming Mekong Delta cycling tour.
Prepare before cycling Mekong Delta
Saigon will be the starting point in the journey of exploring Mekong Delta. For an enjoyable and safe journey, you should take some notes below to have the best preparation before the trip:
1.Safety first
Biking is not as safe as you think. Although the speed of a bicycle is not as fast as a motorbike or car, its small size or the low visibility, you may be at risk on the highway or at the crossroads. So while
cycling in the Mekong Delta
, be concentrate on driving and let's stop to rest when feeling tired. Before you go, you should check the bike and the accompanying equipment. Make sure that your helmet fits well with your head does not interfere with vision and all the parts of the bike are working well. If possible, add the light to the hat or in front of the wheel to have a better visibility and other drivers can see you in the evening.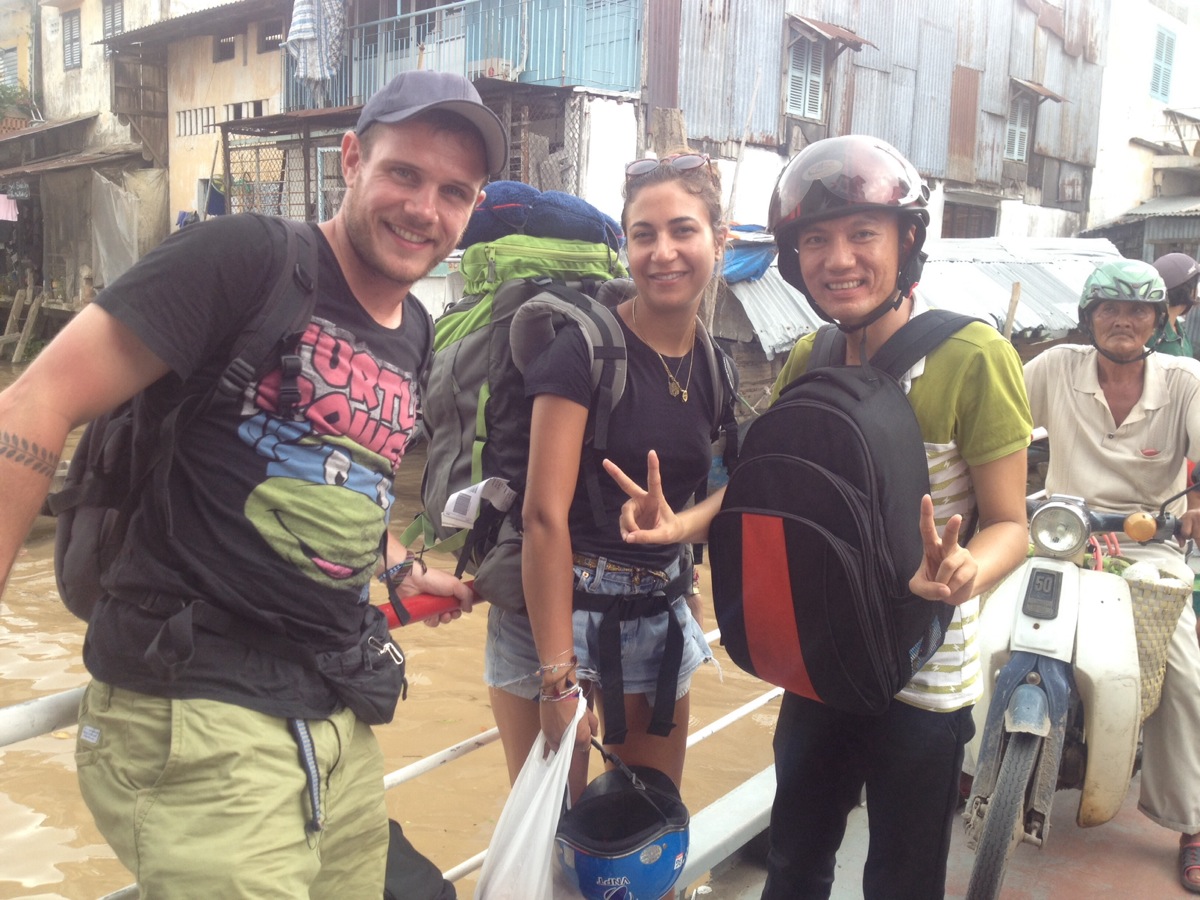 2.Prepare roadmap
Preparing a specific route before departure is also essential. Once you know the conditions surrounding the trip such as terrain, traffic, climate, you will avoid the unfortunate accident. You should also follow a biking group tour. In addition, hiring a tour guide is also very necessary. They will be the person who shows you the way to go, how reasonably road you should take and gives you the necessary information about where you will go through.
3. Bring enough supplies
Items such as identification, phone and money are not just for you on the trip but are also important in tough situations. In dangerous situations such as missing or life-threatening, these things are important to help the authorities to rescue and help you. In addition, biking consumes a lot of energy, maybe hundreds or even thousands of calories. To avoid hypoglycemia or energy deficiency, carry light and healthy snacks. You can bring fruits like bananas, apples or dried wares, peanut butter, bread while on the roadside break.
Suggested Itinerary: A journey to explore Mekong Delta by bike
Day 1: Biking from Saigon to Vinh Long
Firstly, the tour guide will pick up you in Sai Gon. In the first day of
cycling in Mekong Delta,
we have a quick transfer to Cai Lay, a site of Tien Giang Province (formerly My Tho Province), Mekong Delta. Here, you can visit the fruit orchard, one of the characteristics of the river that's hard to find in somewhere else. This is a place full of fresh fruits and vegetables. You can catch fish to eat on the spot. All materials are hygienic and safe for health. In addition, when you come to Cai Lay, you can also come across some famous monuments here such as Phuoc Lam Pagoda, Tu Kiet Mausoleum, Ap Bac Victory Monument...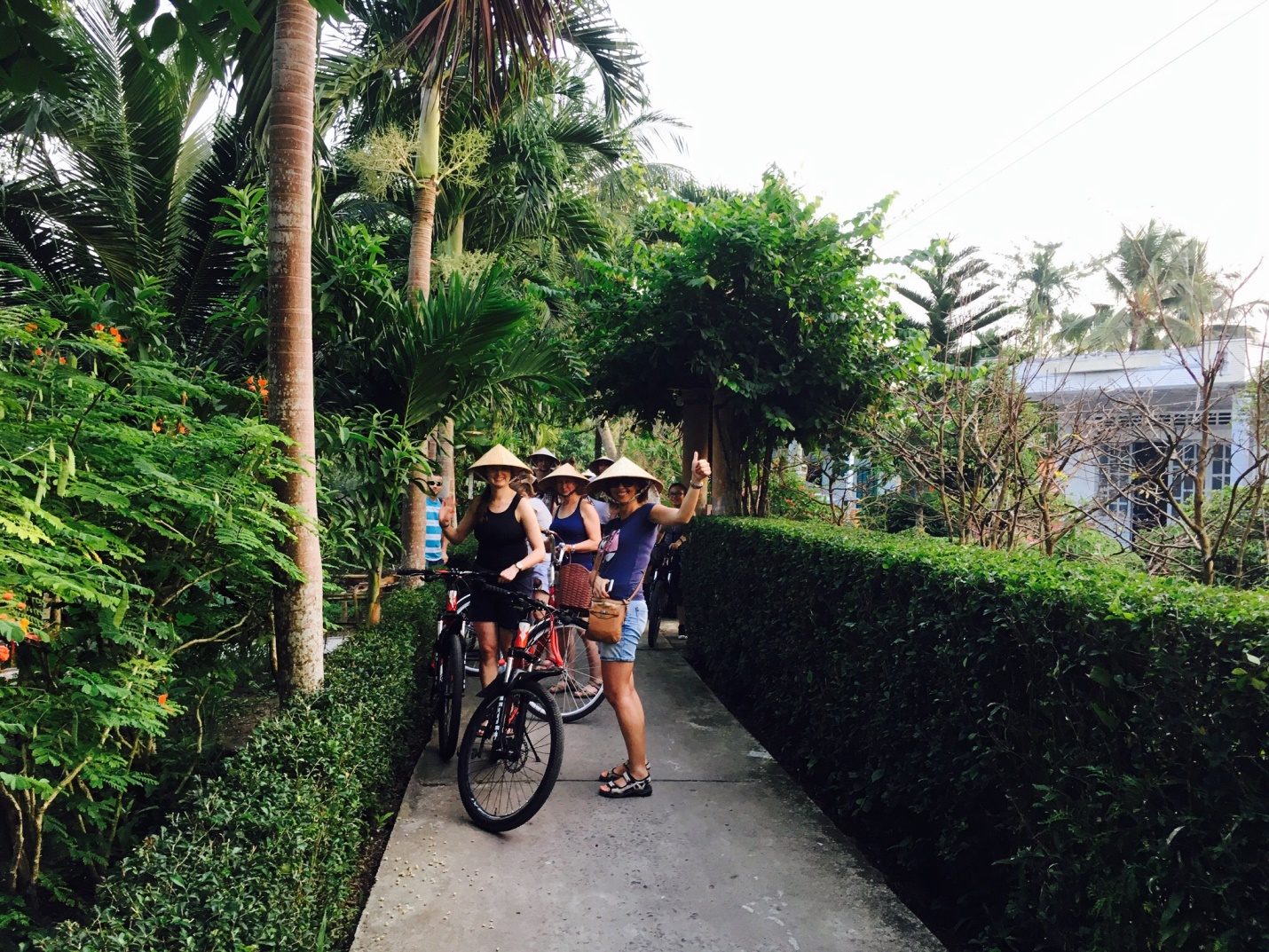 After that, you will continue cycling back to Cai Be, where we'll board a boat to An Binh Islet. Here, you can spend time to visit the artisans, learn how to make a coconut candy, rice paper or popcorn/popped rice. Many visitors have shown interest in watching this. Then, let's enjoy a lunch on the island with the characteristic dishes of this Western land. You can have it in your homestay with the local people. Most of the houses here have airy rooms and an outdoor kitchen. You can spend the rest of the day on cycling in the surrounding area.
Day 2: Cycling from Vinh Long to Tra Vinh
In the next day of cycling Mekong Delta tour, after waking up in the early morning, you can have a breakfast in the homestay before having a short boat trip to Vinh Long, one of the famous fruit towns of Mekong Delta. In Vinh Long, you will bike along narrow country lanes through tiny orchards. You'll have the opportunity to see the colorful life along the riverside while cycling through the picturesque delta homes and villages. You will be impressed by the interesting life of Mekong Delta, Vietnam part - where we often call Nine Dragon Delta.

After that, we will cross the narrow canals by a sampan or have a refreshing boat trip across the Co Chien River. Finally, we will bike to a pretty Khmer town of Tra Vinh to see the daily life of people here. There will be plenty of time to explore side tracks and trails in Tra Vinh. We'll stay overnight at a local hotel in Tra Vinh. There are many attractive destinations in the city that you can explore along the bike such as Ba Om Pond, Ang Pagoda, Long Tri Isle... After a long day of exploring and experiencing, you will have dinner and overnight at a hotel in the town.
Day 3: Cycling from Tra Vinh to Can Tho
On the third day of
cycling Mekong trip
, we will discover the area of the Khmer people. The regional architecture is very unique and you can admire many Khmer temples on the route. From Tra Vinh, you will bike follow the peaceful road to go to Can Tho. One thing that can not be ignored in Can Tho, that's cycling to Ba Om Pond to see its magnificent lotus flowers. En route, we'll also stop to visit a local Buddhist temple school. Do not forget to visit the museum of Can Tho city, where many information and artifacts about nature and people of Can Tho have been kept up. Surely you will know a lot of interesting information here.
After spending about 1 hour visiting the city museum, you should go to Ninh Kieu wharf or Hau River to have a cup of coffee while watching the traffic on the river. Most of the owners are Can Tho people or live in Can Tho for a long time, they are so enthusiastic and friendly. You will spend a night in Can Tho, so if not being tired, you can join a night market in Can Tho, where you can find all the famous snacks such as fried foods, baked goods, juice, sugar cane juice, sugar cane juice... and enjoy the bustling atmosphere of the night market after a day biking around the city.
Day 4: Can Tho – Cai Rang Floating Market – Saigon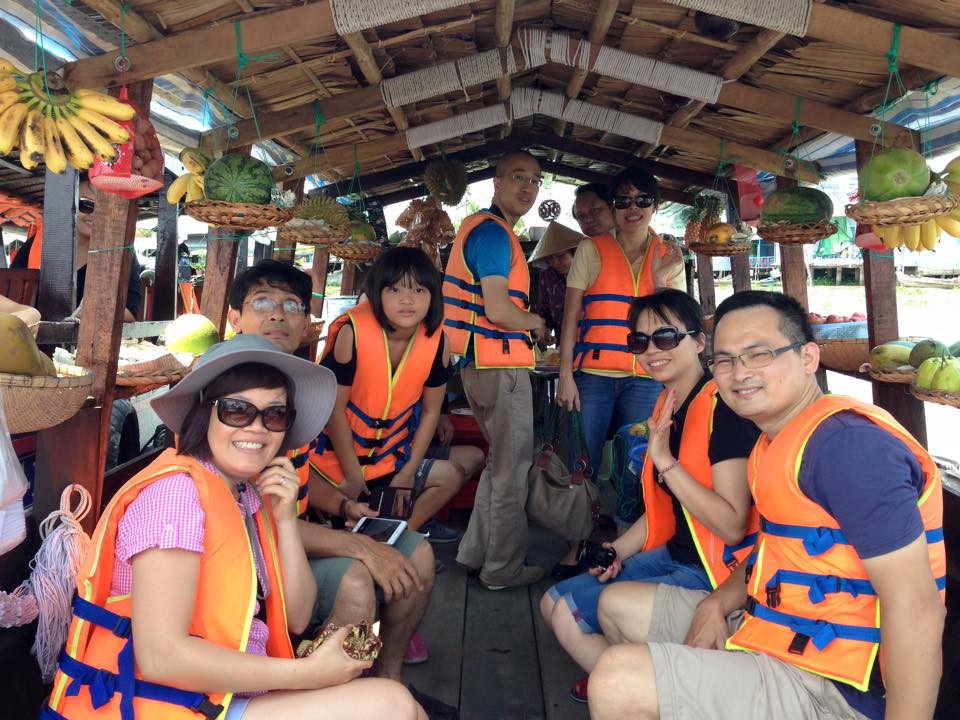 In the last day of cycling Mekong Delta tour, we will explore a feature of the river Western Vietnam, that's the floating market. Early morning we'll bike to the boat station and board a boat to visit the Cai Rang floating market. It's located on Cai Rang River, near Cai Rang Bridge, about 6 km from downtown Can Tho and 30 minutes by boat from Ninh Kieu Wharf. Like other floating markets in the Mekong Delta, it has been formed to meet the demand for trade and exchange of goods. Here, there are not only canoes of fruits, agricultural products but also many other services boats such as Pho, noodle soup, coffee, floating pub... The advantage and also the attraction of Cai Rang floating market for tourists is to preserve and promote the characteristics of the river and the freshness of goods here. Visitors, especially foreign visitors, love to explore and experience this destination. In front of the vastness of the sky, the water, visitors will feel peaceful and the sincerity, simplicity, and hospitality of local people. This is really a must-visit destination in a
cycling Mekong Delta trip
.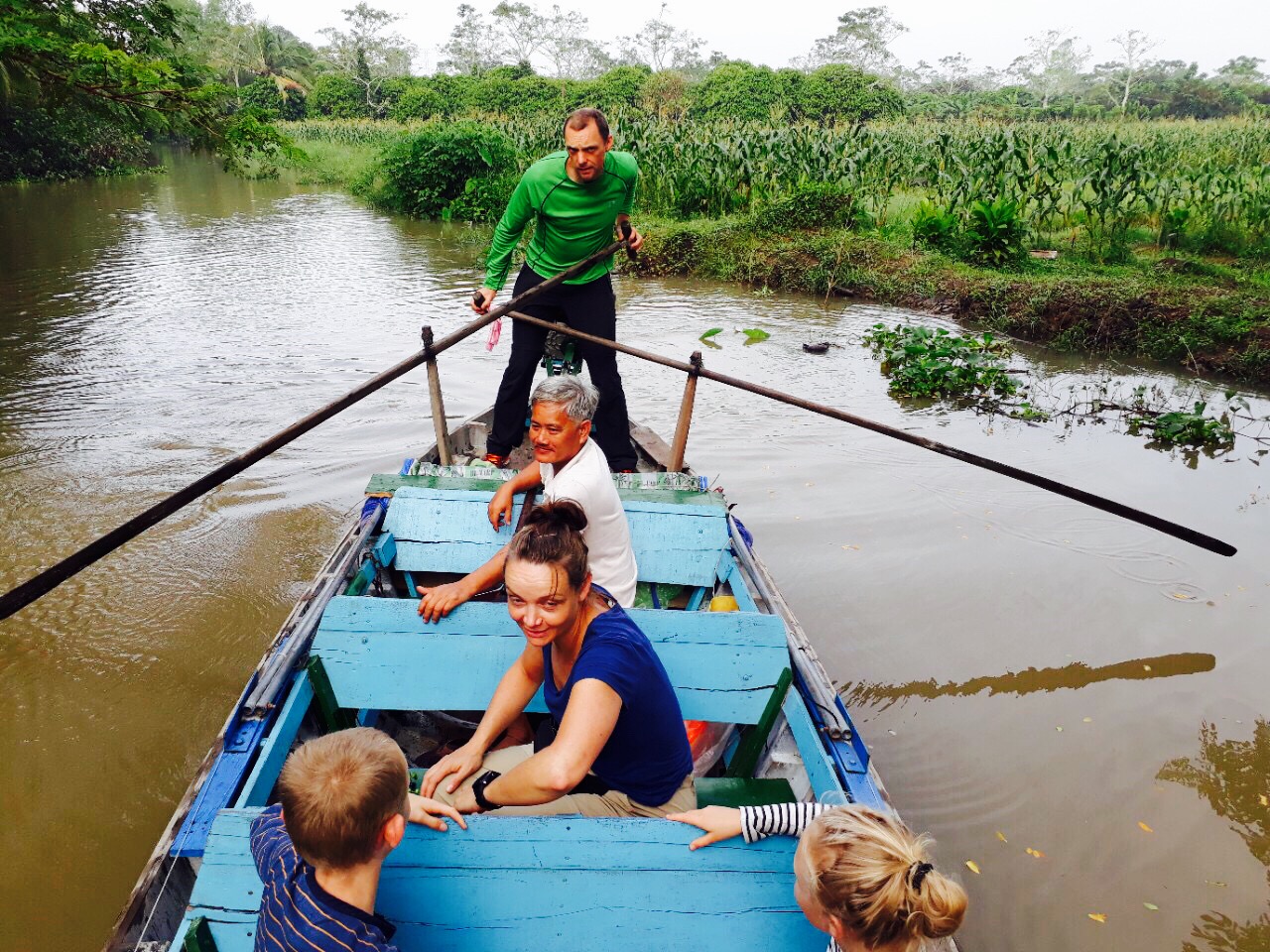 After that, you can spend your free time cycling around the streets of Can Tho. Along the way, you'll absorb sights of endless cottage industries, coconut shredders, timber merchants, small docks loading/unloading rice. You can have a lunch in the local restaurants before coming back to Saigon and end the trip.
Mekong River Delta has a rich canal system and waterway, there will definitely be many unique and interesting things that you can not find when traveling elsewhere. And
cycling Mekong Delta
became the choice of many explorers because you can discover all the simple and peaceful beauty here only by bike. Hopefully, with the above suggestions, you will have a memorable journey on a part of Vietnam.
Responsible Travel
Being a responsible eco tour operator is at the heart of what ACTIVETRAVEL ASIA is all about. From the start, we have been committed to offering low-impact tours that benefit traveler and host alike. We work with local communities, businesses and individuals to develop sustainable tourism opportunities that help local economies while minimizing negative environmental and cultural impacts.