The best spots for Kayaking in Halong Bay
Endowed with 1,696 islands, islets and rocky karst outcrops, many of which have been given imaginative names derived from their perceived shapes such as Man's Head, Fighting Cocks, Wading Ox and Wallowing Buffalo and with heights ranging from 50-100 meters (160-330 feet) and a height-to-width ratio of about 6:1, the majority of these karst pinnacles and islets have sheer, vertical cliffs. With many uninhabited and unaffected islets, the towering limestone outcrops jutting skywards from the emerald-blue waters, Kayaking in Halong Bay is a must-try activity for any visitors to this distinctive magnificent landscape.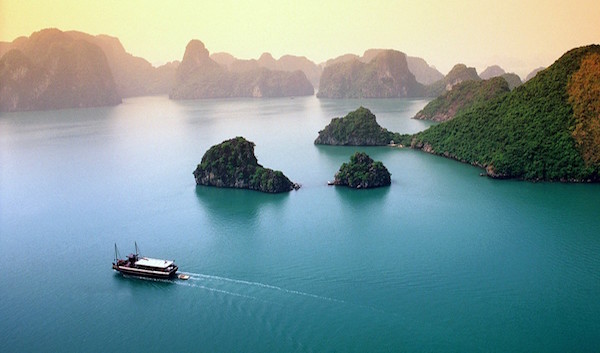 To make use of the time and money, and to help you get the whole panorama of Halong Bay, we would like to recommend the following best spots.
Vung Vieng Fishing Village

Cua Van Fishing Village

Luon Cave

Ho Dong Tien Area

Trinh Nu Cave

Cong Do Area

Tung Sau area

Co Cave area
How to get to Halong Bay
Along with the vigorous growth of Viet Nam economy and of course its tourism industry blooming, Halong Bay, an economic, political, and cultural hub of the province, has been appealing more and more tourists all over the world. As a staple service to tourism development, the traffic system linking Halong with other big cities in the area has always been improved, which allows Halong Bay much more easily accessible than ever. Getting to Halong Bay now is only a matter of one's choice to their convenience.
Available means of transport, including car, motorbike, coach, bus, minibus, train, helicopter or even waterway are always ready to satisfy any visitors for their different tastes.
->> FROM HANOI
With a new highway connecting Ha Noi - Hai Phong - Halong Bay, it now reduces the travel time from nearly 5 hours to only about 2.5 hours from Hanoi to Halong Bay by coach, by cruise's bus, or by private car
Cruise bus/ mini bus
For foreign travellers, the most convenient way to get to Halong Bay from Ha Noi is to book a tour including two-way transfer. With the package, travelers will be picked up and dropped off by the cruise's mini bus, which is quite safe and comfortable.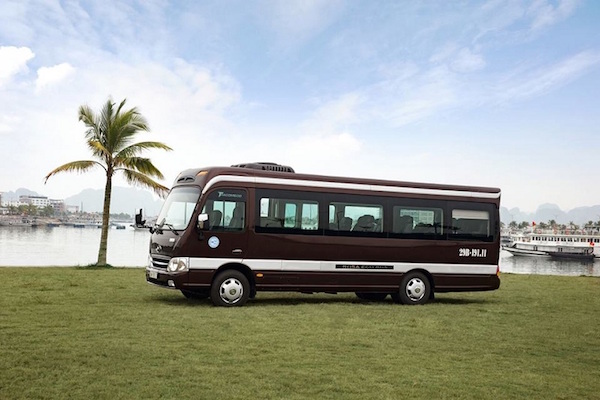 Private car
It is quite easy to contact a travel agent and book your own private car. However, the service quality is surely commensurate with the price, which means that the more comfortable you get, the more expensive you have to pay.
Coach
If tourists prefer to book a vehicle by themselves, do refer to big terminals in Hanoi such as My Dinh Bus Station, Gia Lam Terminal, or Luong Yen Terminal to catch a vehicle of their preference. Car fares are often listed on notice boards at the station. Normally, most of coaches stop at a terminal near Bai Chay Bridge. From there, tourists can easily catch a taxi or a motorcycle to arrive at Tuan Chau Marina. But honestly, it is not advisable to get to Halong by this way because of its inconvenience to foreign travelers. The tickets may be overpriced or travellers have to face other unexpected problems.
>> FROM HAI PHONG
Halong Bay is only around 75 kilometers away from Hai Phong, so it takes only about 45 minutes to get there by road.
Bus/ Coach/ Taxi
Currently, Lac Long Terminal, located in No.22, Cu Chinh Lan Street, Hong Bang District, Hai Phong City, has put a few routes connecting Hai Phong to Quang Ninh in use. Please see the following table for your reference: Like anywhere else, the schedule and the price of the car fare for each route is often listed on the notice boards at the station, too.
Hai Phong - Bai Chay: 6.00am – 6.00pm VND 40,000

Hai Phong – Cua Ong: 4.00am – 8.00pm VND 50,000

Hai Phong – Cai Rong: 4.00am – 8.00pm VND 50,000

Hai Phong – Cam Pha: 4.00am – 8.00pm VND 45,000

Hai Phong – Hon Gai: 4.00am – 8.00pm VND 40,000

Hai Phong – Mong Cai: 4.00am – 8.00pm VND 100,000
For other options, you can also catch a private taxi to Halong Bay from Hai Phong. However, you should bargain with the driver in advance to avoid being overpriced.
Ferry
Besides taxi and bus, ferry is another good option to travel from Hai Phong to Halong Bay. Getting to Ben Binh terminal, you will have a clear schedule and price (listed on the notice boards there) for your travel from Ben Binh to Cai Vieng or Cat Ba in Halong.


(Please be noted that the price in the tables are for your reference only, it can change anytime by service's providers)
Price for Cat Ba Horizontal Ferry:
From Monday to Thursday Ben Binh – Cai Vieng VND 130,000; Ben Binh – Cat Ba VND 150,000
From Friday to Sunday Ben Binh – Cai Vieng VND 150,000; Ben Binh – Cat Ba VND 170,000
Departure time from Ben Binh & Cat Ba: 7.00, 8.00, 10.00, 13.00, 15.00, 16.00
Departure time from Cai Vieng: 7.45, 8.45, 10.45, 13.45, 15.45, 16.45
Best time to visit Halong Bay
With Kayaking in Halong Bay, to be honest, visitors can enjoy themselves at any time throughout a year since different period has its own interesting features. And the best time of the year to travel to Vietnam or the best time to go to Halong Bay is somewhat debatable. It all depends on the tourists' schedule, their likings and also their budget condition. However, it is advisable to consider the periods between the months of Spring (February to April) and again Autumn (September to November). During these two periods, the generally warm and dry weather, the calm waves and sea, together with bright sunshine and gentle breeze, all seems favorable for kayaking activity. However, the number of tourists is often huge and thus, the cost also increases.
Summer (May to August) in Halong Bay is as cool as cucumber. The sun is bright, the water is super warm, which makes Halong very charming with crystal and emerald water, ideal for Kayaking. Yet, it is the rainy season with a higher chance of storms and typhoons which may affect the tourists' fun events.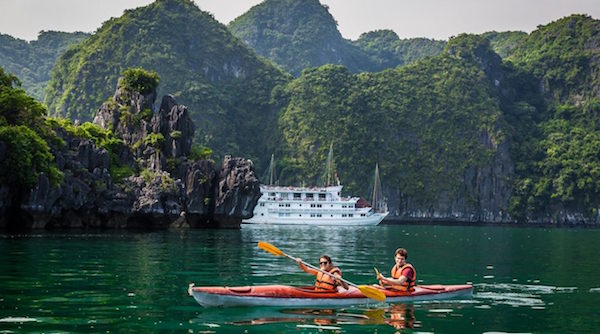 Winter (December to January) in Halong Bay is said to be a bit cold with mist and soft raining but this doesn't have much effect on recreational activities-kayaking or hiking. Occasionally, there are days when it is colder with more fog which makes Halong bay look like a dreamy land. The freezing fog makes everything blurred like a focused picture.
In short, with some planning in advance, the year-round visits to Halong Bay will always be attractive without any doubt.
Popular routes
Planning to visit Halong bay, one can't help considering which tour to take and of course which route to follow, all involving the ideas of how travellers want to discover the area, what they are interested in and how long they want to spend. Thus, there are various options for the visitors to opt for. Followings are the popular routes for Kayaking in Halong Bay.
Kayaking in Halong Bay, tourists can't miss some of these featuring splendid travelling sites such as Sung Sot Cave, Titov Island, Cua Van fishing village etc.
One of the finest and widest grottoes of Halong Bay is Sung Sot cave, also known as Surprise Grotto is on Bo Hon Island, in the centre of the Bay. Tourists will have a lovely impression stepping on the path ascending to the grotto as it is covered by trees and foliage, and also great paved stone blocks.

Titov Island includes steep slopes, a tilt with a bank of white sand, flat. After kayaking, visitors can get ashore or climb the mountain and capture the whole island views, looking down from the peak. Titov beach is shaped like a moon embraces the foot of the island.

Another cave - Me Cung Grotto, also called Bewitching Grotto, whose roof looks like the roof of a house denting the island's side, formed on Lom Bo island, is about two kilometers to the south-west of Titov beach. That's why it doesn't take much time to travel between the places.

Visiting Cua Van fishing village, visitors will have a close picture of daily life of fishermen, what they do for their living and how friendly they are. If interested, visitors can even try spreading a net to catch fish
There are many optional routes to visit the splendid and majestic world wonder, Halong Bay as follow:
Route 1:
Thien Cung Cave - Dog Rock, Ba Hang fishing village, Dinh Huong (Lu Huong) Islet, Fighting Cocks (Ga Choi), Hoa Cuong fishing village. (picture inserted)
Route 2:
Sung Sot cave, Ti Top or Soi Sim Island, Me Cung Cave, Fairy Lake or Trong Cave or Trinh Nu (Virgin) Cave or Luon Cave and Bo Nau Cave. (picture inserted)
Route 2 and overnight:
Sung Sot Cave - Ti Top or Soi Sim Beach - Me cung Cave - Fairy Lake or Drum Cave or Trinh Nu (Virgin) Cave or Luon Cave and Bo Nau Cave
Overnight at 690 Lach Dau Xuoi - Bo Hon Island or Trinh Nu - Trong cave or Fairy Lake or 587 - Lat Cave) (picture inserted)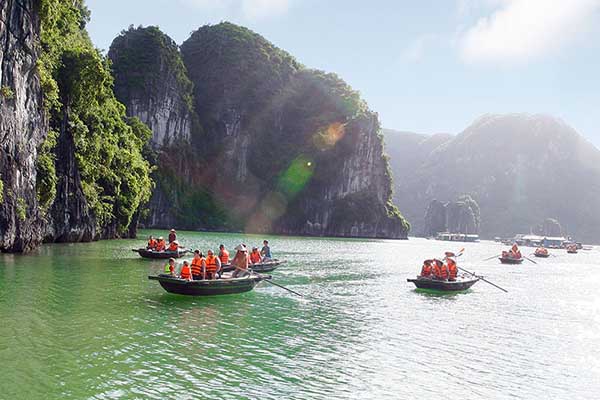 Route 3:
Three spots visited: Cua Van Fishing Village – Fairy Cave –Ba Ham Lake
Route 3 and overnight:
Cua Van Fishing Village - Fairy Cave - Ba Ham Lake
Overnight either at Ba Ham lake or Cua Van fishing village
Route 4:
Co Cave - Father Cave - Vong Vieng fishing village - Cap La - Cong Dam fishing village or ecological zone Tung Ang - Cong Do Island or Xep Islet
Route 4 and overnight:
Co Cave - Father Cave - Vong Vieng fishing village - Cap La Cave - Cong Dam fishing village or ecological zone Tung Ang - Cong Do or Xep Islet
Overnight at Cong Do Island (picture inserted)
Route 5: Port - Gia Luan Dock (Cat Ba - Hai Phong):
Dog Rock, Ba Hang fishing village, Dinh Huong Islet, Fighting Cocks (Ga Choi), Hoa Cuong fishing village.
Further spots for adults: Ba Hang cave/ Soi Sim beach
Additional points in the route: Bo Nau Cave (Trong Cave or Luon Cave, Virgin Cave)
Tips
- Kayaking is generally assumed to be very safe in these calm waters of Halong Bay but there is still some areas and warning that you should take into consideration for your safety to make your tours of Kayaking in Halong Bay to the full.
Step 1- Prepare before kayaking – important steps:
• Vital things: Life jackets, drinking water, sun cream, dry bag, camera, insect repellent
• Carefully follow the operators' instructions. Put on the life vest and use the dry bag (with your phone, camera, etc…inside) before kayaking.
• Prepare proper clothes: T-shirt and shorts, swimming suit in the summer; warm clothes in the winter; water-proof shoes, hat, sunglasses. Halong Bay water is pretty warm during winter so feel free to kayaking anytime of the year. However, keep yourself warm after doing the job to avoid unexpected cold.
• Keep a safe distance with the others. Keep in sight with the others to avoid getting lost.
• Even if you are an experienced kayaker, don't come too close to caves and karsts as you might get sucked in. There were reports of such cases and it took from 30 minutes to hours to rescue the victims. (especially in Dark cave)
• Never kayaking while being intoxicated. Alcohol is always dulling your sense, which might result in unfortunate accidents. There have been reports of victims drown because of swimming after drinking a large amount of alcohol.
• For the children: Children shouldn't be left unattended. Strictly follow the tour guide and their parents. Sit still in the kayak, to avoid being overturned.
• Children under 5 years old are suggested not using kayak



Step 2- When you kayaking:
• It is very important to follow your tour guide, obey the route, time and rules.
• Consult the tour guide about the weather, tide and wind strength to have the best and safest route.
• Keep away from the places with strong currents. Take advantages of the wind and flow by not moving against them.
Step 3- Handle unexpected situations:
• Adjust the speed of the whole group if any of the members is out of sight.
• Strictly follow the instructors in case of unexpected incidents. Your kayak may overturn, and in this case, keep calm and if possible, do a little swimming before help arrives. The life guards will take put your kayak in his on a T-shape to make the water out and put your kayak back onto the water again so that you can continue the journey.
• In case of an expected storm, quickly head for the safest place in the sheltered areas, beaches… to avoid the storm. If you are in the middle of the sea and cannot find a safe place, you need to gather to make a big and strong raft to avoid being washed away.
Conclusion
Kayaking in Halong Bay is extremely interestingly energetic. With so many fascinating aspects of this outdoor activity, it will surely bring you many wonderful experiences amidst this breathtakingly vast sea and definitely, it will save you the most memorable moments among the grandeur nature of Halong. Come to us, ATA as we are always willing to produce as good tourism products as possible with our utmost responsibility and enthusiasm.
Responsible Travel
Being a responsible eco tour operator is at the heart of what ACTIVETRAVEL ASIA is all about. From the start, we have been committed to offering low-impact tours that benefit traveler and host alike. We work with local communities, businesses and individuals to develop sustainable tourism opportunities that help local economies while minimizing negative environmental and cultural impacts.