Top 10 marvelous destinations in Mekong Delta Adventure Tour
The Mekong Delta is an area with great potential for tourism with abundant natural resources and historical values of the four ethnic groups (Kinh, Hoa, Khmer, Cham). This place has a unique ecological landscape, attractive and charming rivers, fresh fruit all year round, clear environment, many traditional folk festivals and unique cultural identity. In particular, the gentle, hospitable, generous and harmonious human make many travelers choose Mekong to visit. In the next article, let's take a look at 10 attractive destinations in a Mekong Delta adventure tour.
The Windmill Field, Bac Lieu
Bac Lieu a province located in the Mekong Delta and only 290 km from Saigon. It is known as an attractive destination in the
Mekong Delta adventure tour
. And the highlight spot in Bac Lieu tourism is the windmill field that makes visitors so excited to witness. It's also the largest windmill field in Vietnam. From Bac Lieu city, along the Cao Van Lau road to the sea, in the area of East A sea village, Vinh Trach Dong commune, there is a wind power plant. From a distance of tens of kilometers, you can see the turbine shafts that are mounted fan blades. They spin like the giant pinwheels in the sky creating a majestic and poetic spectacle.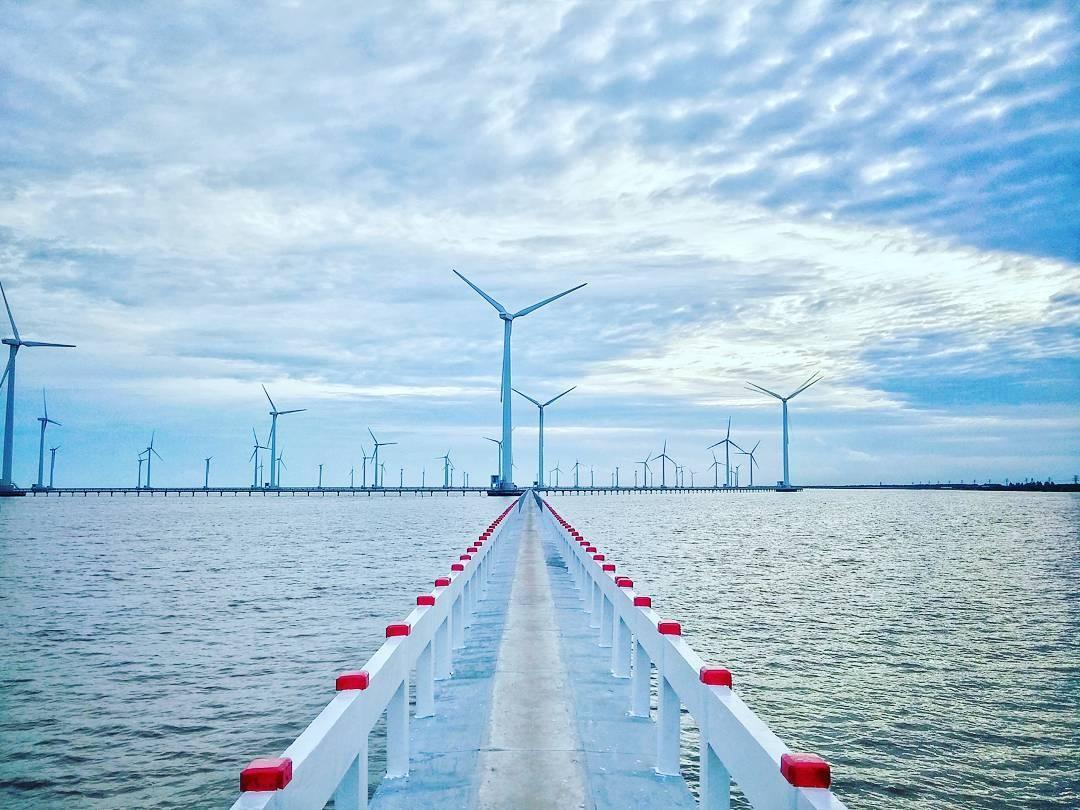 The largest windmill field in Vietnam located in Bac Lieu, Mekong Delta
Tra Su Melaleuca Forest, An Giang
Tra Su Melaleuca forest is located in Tinh Bien district. It covers an area of about 850 hectares with the rich ecosystem. This is a symbol of An Giang floating season's beauty. Experience when the boat ride amidst the dreamy green carpet, wading in the corners of the melaleuca forests, listening to birds on the canopy will be a nice memory in a
Mekong delta adventure
trip. The big boat will take you deep into the forests, after that you will be able to take a small boat to visit every corner of the melaleuca forest. According to the instructors here, it is possible to come to Tra Su on all days of the year, but the most beautiful time is in the floating season from September to November.
Tram Chim National Park, Dong Thap
Tram Chim National Park in Dong Thap province is a wetland that is classified as a special forest of Vietnam. It is the largest wetland area of the Dong Thap Muoi, recognized as the fourth biosphere reserve ( Ramsar) of Vietnam and the 2,000th of the world, with over 232 species of birds with many rare species such as the earthen witch, rainforest, cuckoo, scorpion,... in the red list of endangered species. The fish fauna in Tram Chim National Park is equally rich, playing both an ecological balance and a source of food for birds. There are some fish species listed in the Red Book of Vietnam such as Com fish, Ho fish, Mang Ho fish, Ngua Nam fish... In addition, Tram Chim resort also has many other interesting works such as bird showroom, movie room, labyrinth-shaped bridge, red-crane model, souvenir shop... and many entertainment services such as electric cars, terrain bike, water bike, duck boat, kayaking...This is really an interesting destination in for
Mekong Delta adventure.
Dong Tam Snake Farm, Tien Giang
Dong Tam Snake Farm is located on the banks of the Tien River, covering an area of about 30 hectares with green and cool space. This is one of the largest snake farms in Vietnam with more than 400 species and this is considered as the first snake museum in Vietnam. This farm attracts many domestic and foreign tourists to visit, learn, and study assist. Coming here, you can witness from the non-toxic snake to poisonous snake. Snakes are freely stocked, including three areas suitable for each species: aquaculture ponds, the area of poisonous snakes and python areas.
Cai Rang Floating Market, Can Tho
Referring to Can Tho, sure that everyone knows Cai Rang floating market that's too famous, a must-come destination in
Mekong adventure tour
. Floating Market is a cultural feature of the people in South West Vietnam that you can hardly find in other localities. Especially Cai Rang is one of the five largest floating markets in the Mekong Delta. This market meets quite early, from about 4, 5 am. So you should go a little early to be able to experience the bustling atmosphere of the market. Here, people exchange many types of goods. Each boat will sell a variety of items, from the fresh fruits to the necessary household items for the daily life. The dishes are also sold on the boat. You should not miss to taste a noodle bowl or drink a cup of coffee right on the water.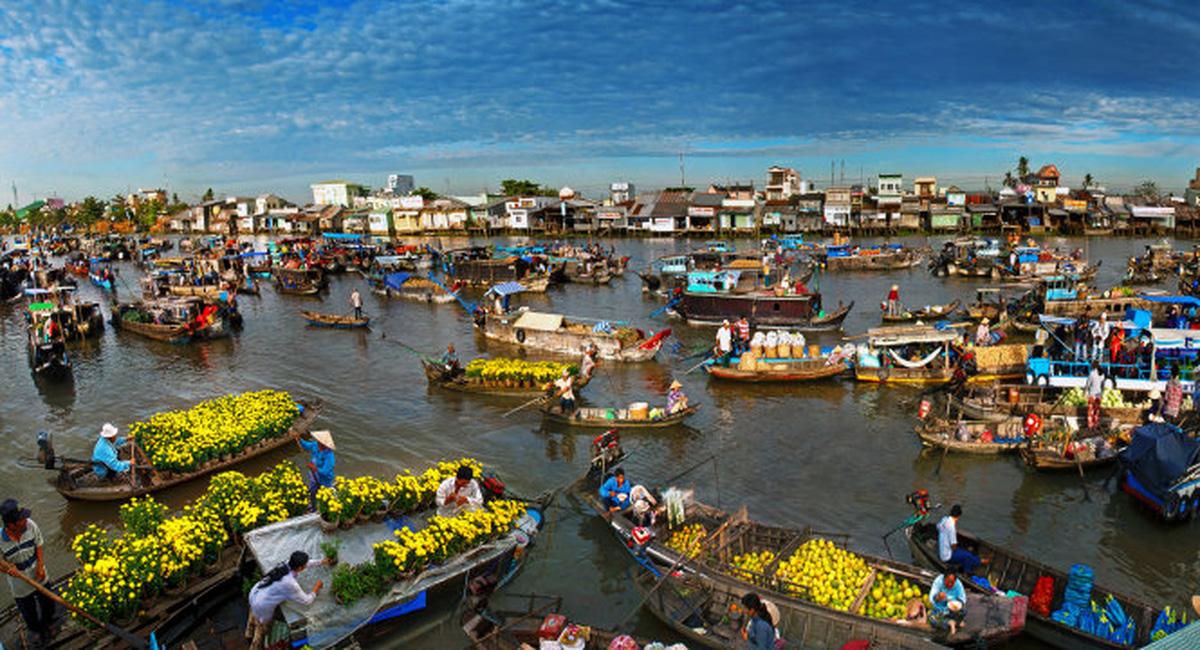 Floating market should not be ignored in Mekong delta adventure tour
The Bat Pagoda, Soc Trang
The bat pagoda is a representative architectural complex of the Khmer faith, located about 3 km south-east of Soc Trang city. The temple was built in 1569, more than 440 years ago. Since then the temple has been restored many times. It has an ancient Khmer architecture, the main hall is built of brick, tile roofs, four curved roofs soaring Naga snake image, top of the roof has a pointed tower. Around the main hall are columns, each column has a female Kemnar statue with two hands in front of the chest. At this place, visitors not only admire the unique beauty of the ancient temple that has over 400 years old but also is immersed in mysterious nature with herds of bats on the trees in the temple. In addition to spiritual tourism, visitors come here to see the large bat.
Ca Mau Cape, Ca Mau
Cape Ca Mau is located in Mui village, Dat Mui commune, Ngoc Hien district, more than 100 km from Ca Mau city. This is a piece of land protruding to the South China Sea in the South of Vietnam, this place has a very sacred meaning for Vietnamese. Not being so beautiful, not too enthralled by the poetic or majestic but Ca Mau Cape still fascinate tourists by the simplicity and rustic. This place also marks an important landmark, the end land of the country. As of that, in the Vietnamese mind, Cape Ca Mau is a sacred place, far away but very close. In your
Mekong Delta adventure tour
, don't forget to visit this meaningful land.
Pirate Archipelago, Kien Giang
Pirate Island in Kien Giang is considered a strange destination right from the name. This is the name of an archipelago of 16 islands, the largest of which is Hon Tre Island (Hon Doc), located in Tien Hai Commune, Ha Tien District. Most of the island is covered with forest, rocky and unspoiled rocks. Coming here, you will have the opportunity to experience the natural landscape with pristine beauty, cool and fresh air. You can travel to the island in all seasons, but the most beautiful time is in the dry season when the sea is quite calm and green. Before the trip, you should follow the weather forecast to avoid the rainy days. You can bring picnic huts to camp on the sea or overnight in a homestay to experience the life of fishermen after a long day of
Mekong delta adventure
, you will definitely get a great experience.
Xeo Quyet Ecotourism, Dong Thap
Located about 30km from downtown Cao Lanh, in the area of two communes of My Long and My Hiep, the historical relic combined ecological area Xeo Quyt will give visitors the feeling lost in a primary forest with beautiful scenery. This ecotourism covers an area of about 50 hectares, including 20 hectares of Melaleuca forest, the rest is mangrove forest systems. Xeo Quyt has beautiful scenery with a cool green color. Visiting the monument, visitors have two ways to move. If you like to wander under the canopy of trees, you can trek follow the way in the relic, about 1.5km long. If not, you can experience the feeling of boating along the cliffs, through the small creeks to explore the entire site. Xeo Quyet has 170 species of plants (with 158 wild species) and 12 species of trees. The fauna has 200 species of wildlife including 7 species of amphibians, 22 species of reptiles, 73 species of fish, 91 species of birds and 7 species of mammals. Especially, there are 13 species of rare animals listed in the Red Book of Vietnam.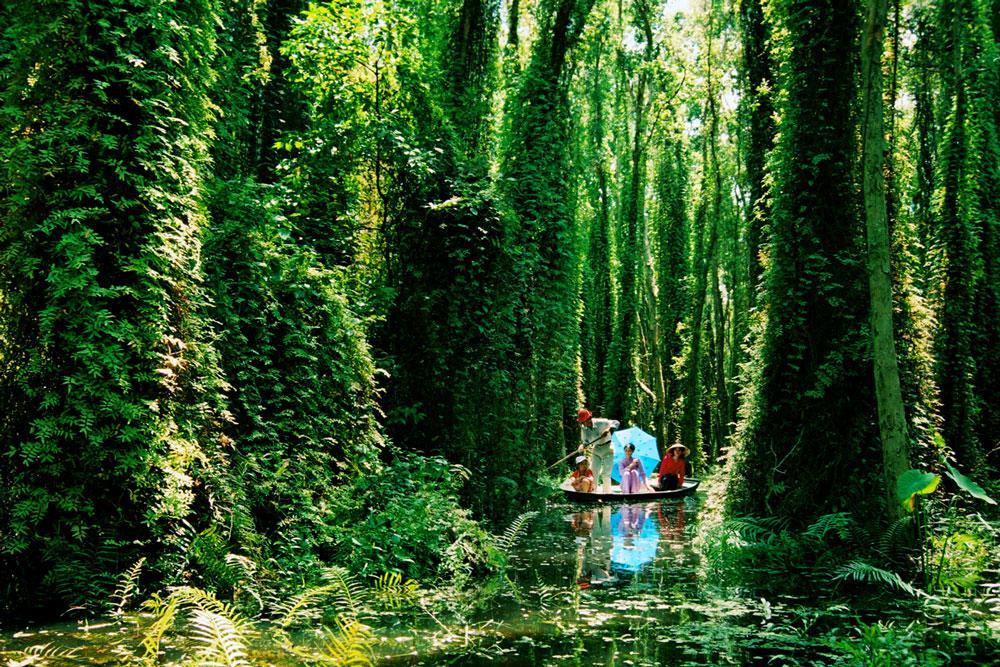 Xeo Quyet Ecotourism should not be ignored for adventure lovers
Xiem Can Pagoda, Bac Lieu
This unique Khmer temple in Bac Lieu is located in the East B Beach, Vinh Trach Dong Commune. It was built in the 19th century on a 50,000 m² campus. Through the green trees cool from the highway, visitors are surprised by the pagoda because it is decorated with many motifs, patterns, along with the carved lines and unique sculpture. Siamese Pagoda is influenced by the Angkorian architecture of Cambodia, shown in the unique motifs of the dome, walls, columns and stairs. This is one of the unique tourist destinations in the Mekong Delta. Space here is quiet and peaceful, making your soul relaxed and effortlessly watching the elaborate work here.
The primeval forests, mangrove forests or the temples, floating markets in the
Mekong Delta adventure
journey will surely have the West Vietnam mark. These are things that you can hardly find elsewhere and make visitors unforgettable. If you have not come to Mekong yet, do not hesitate to come here to experience something different.
Responsible Travel
Being a responsible eco tour operator is at the heart of what ACTIVETRAVEL ASIA is all about. From the start, we have been committed to offering low-impact tours that benefit traveler and host alike. We work with local communities, businesses and individuals to develop sustainable tourism opportunities that help local economies while minimizing negative environmental and cultural impacts.