Top 7 most gorgeous destinations of Mekong Delta Cycling Tour
The Mekong Delta is fertile land created by the alluvium of the Mekong. With more than 54,000km of a river system, canals, the Southwestern region contains a typical river culture that nowhere else in Vietnam has. Nowadays, to explore the beauty of nature, rivers, as well as the typical culture of western people, the itinerary of
biking Mekong delta
, become more and more popular. Follow these tips for a complete exploration trip.
About Mekong Delta
The Mekong Delta is located in the south-western part of Vietnam, which is bordered by Cambodia to the northwest; Pacific coast to the south; the Gulf of Thailand to the west, and the East Sea to the east. This is a very important and advantageous position in the development of the marine economy, exploitation as well as aquaculture, for domestic production and consumption as well as for export.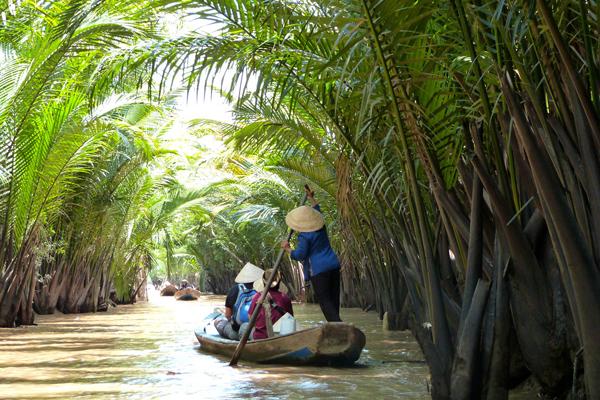 The peaceful scene of Mekong Delta
Nowadays,
biking in Mekong delta
become very popular with the tourists. This area is the cradle of the Oc Eo culture, a culture that has made great progress in the early years of the Christian era. Oc Eo society develops many handicrafts such as pottery, bronze or jewelry. This culture has left many different architectural manifestations manifested through the traces of stilts, the architectural system of massive brick and stone confused showing the high technical level in construction. In addition, for a long time, this delta has formed and developed unique natural ecosystems, which are freshwater forest ecosystems (typical of Tam Nong National Park, Tra Su forest, Dong Thap Muoi, to the coastal mangrove ecosystems (U Minh Thuong and U Minh Ha National Parks), even agricultural ecosystems. Notably, the popular mangrove ecosystem in Ca Mau, Kien Giang, Bac Lieu and Ben Tre provinces plays an important role in the socio-economic development, helping to balance the ecological environment of the whole region.
Top 7 destinations in the itinerary of Mekong delta Biking Tour
1.Ben Tre
Ben Tre is a province located at the bottom of the Mekong Delta. This is a peaceful land with fertile soil and fresh fruits. Its simple and rustic things attractive to many tourists. Coming here, do not forget to visit:
Vam Ho bird sanctuary: Vam Ho bird sanctuary has green spaces. This is home to more than million bird species and has become an ecotourism site of Ben Tre province. Here you can see many different birds and will feel like losing in the bird's world.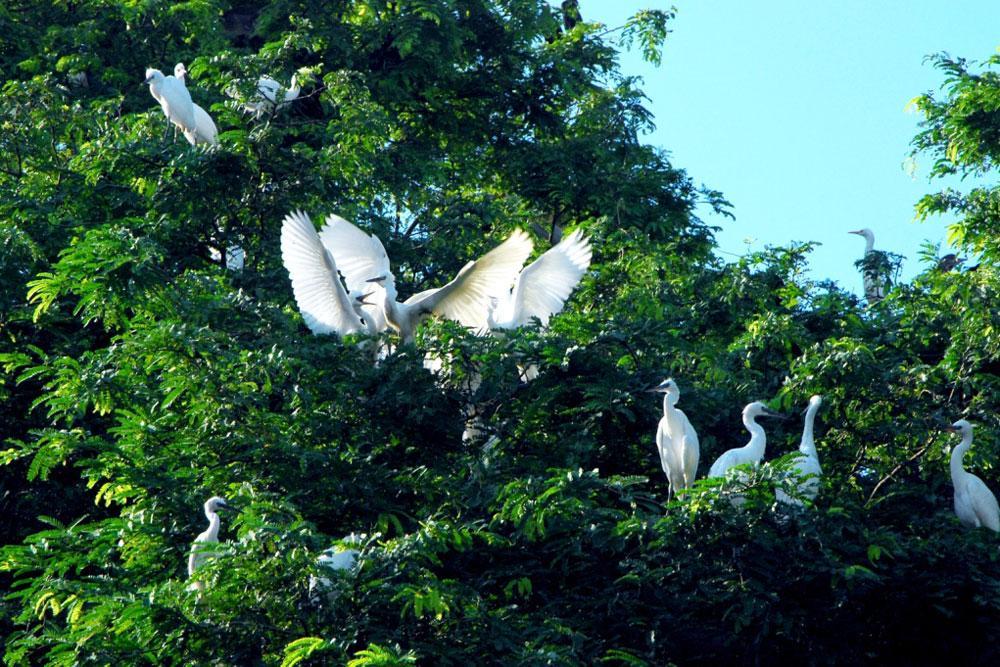 The flock of birds in Vam Ho bird sanctuary
Cai Mon Fruit Garden: This is considered as the most important and potential tourism in Ben Tre province. The fruit garden of Cai Mon has hundreds of different fruits, it will make you feel exciting. You can eat fruit in the garden. They are very delicious and also clean and all visitors will have nice memory with their Mekong delta cycling trip
2. Dong Thap
Dong Thap is located in the Mekong Delta, one of the three provinces of the Dong Thap Muoi region. It is known for its rich and fascinating sights. Dong Thap is investing in tourism development in various forms for the better serve. Visitors to Dong Thap can come over:
Relic of Nguyen Sinh Sac: Nguyen Sinh Sac is the father of President Ho Chi Minh - the father of the nation. This place has been awarded as a national historical and cultural monument. It was built to pay the tribute of the local people with a talented man and the father of a great man.
Tram Chim National Park - Tam Nong: This place is considered as an attractive and interesting tourist destination of Dong Thap. There are more than 198 species of birds here and the rare red-headed bird that appears in the Red book.
3. An Giang
An Giang will be the next province in a
biking Mekong Delta
trip that has immense rice fields, the green rivers,... Although An Giang is on the development of economic and social, it still preserves its pristine beauty.
Tra Su Melaleuca forests: Tra Su Melaleuca forests, where typical ecosystems in the western wetlands of the Hau River have created their own mark. This is inhabited by the birds. It has dense canals, the fresh water and cool climate that is so attractive to many tourists.
Linh Song Ba The Pagoda: This is a famous pilgrimage site that visitors often visit when coming to An Giang. The pagoda has a very unique architecture. Two stones stele and four-handed Buddha statue are the ancient artifacts at Linh Son pagoda in Vong The Commune.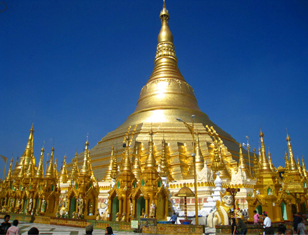 The unique architecture of Linh Song Ba The Pagoda in An Giang
4. Can Tho
Can Tho city is one of the central cities of Vietnam. It has a very favorable location for tourism development, so there are many places for you to explore.
Ninh Kieu Wharf: Ninh Kieu wharf is formerly a port of Can Tho market. It's also a symbol of Can Tho and an attractive tourist destination for all visitors. It is located on the gentle and romantic Hau River, where you can see the busy boat rafts. Ninh Kieu is the pride of Can Tho people. Coming here for a fun experience.
Cai Rang floating market: Cai Rang floating market is a unique market of Can Tho and of Vietnam. All trading activities, exchange of goods take place on the river. This is one of the three biggest markets in Can Tho. Here, they sell fruit and food. The market is always busy and became the charm of Can Tho.
5. Hau Giang
Farewell to Can Tho, we continue
biking in Mekong Delta
by visiting Hau Giang Province. It is gradually becoming one of the important rice production centers of the country. Here you can visit the green rice fields, the beautiful water areas.
Tay Do Ecotourism Area: It is considered as the largest garden resort in Hau Giang. Here you can admire the beauty of countless fruit trees. You can also participate in exciting games and see the beautiful scenery of the pure, rustic village. This is an ideal place for a family trip.
Long My tourist area: This is a tourist resort combining ecotourism, cultural tourism and historical sites. Long My also has beautiful scenery. Thanks to the harmonious combination of culture, history, tourism, this place attract many visitors to visit.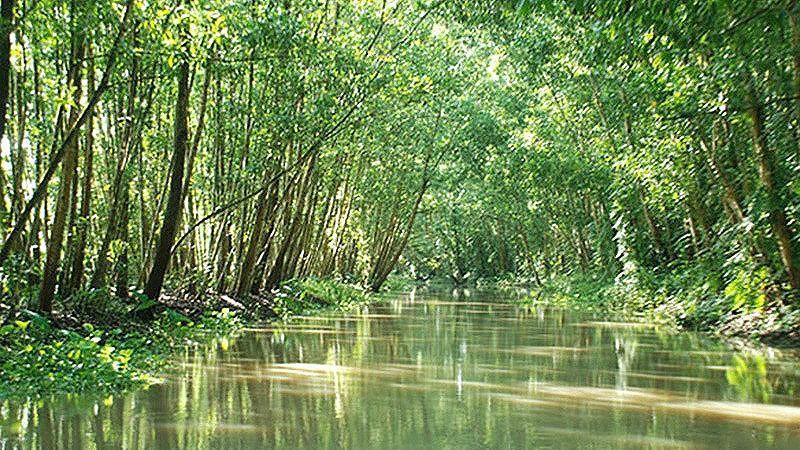 The typical river scenery of South-west Vietnam
6. Bac Lieu
In addition to potential ecotourism, the cuisine also makes Bac Lieu become an interesting address for visitors. The land Bac Lieu is growing and becoming more modern. But it still retains the traditional landscape such as:
Bac Lieu Dandy's house: Bac Lieu Dandy was a famous playboy in Bac Lieu. So his home is no less luxurious, spacious, with unique architecture and expresses the luxury of him. Inside the house there are precious objects that are neatly arranged, convenient for visitors to visit.
Xiem Can Pagoda: Xiem Can is a Khmer pagoda, which resembles another Khmer temple. It's listed in the largest and most beautiful pagodas in Bac Lieu with unique architecture. You should visit here once in the biking Mekong delta itinerary.
7. Ca Mau
Ca Mau is a coastal province located in the southern part of the country, the landmark of Vietnam. Ca Mau has the potential to develop economic, social and especially tourism.
Ca Mau Floating Market: Ca Mau Floating Market is a floating market on the Ganh Hao River. It's the harmonious interaction of people and nature in this charming river. Here you can see all the specialties of the western area. This place is not only a place of exchange on the river but also for tourism. Coming here to feel this uniqueness.
Silver Rock Island: This place is located close to the west coast, a tourist attraction for many visitors. Silver Rock Island is a cluster of islands adjacent to each other. The silver stone is separated from the mainland, but it is beautifully attractive. From away, it looks like a green island on the blue sea. The beautiful scene will not disappoint you.
Here are the famous tourist places you can come over in your
biking Mekong delta
, hopefully after this article, you will have more knowledge of Southwest Vietnam and experience your trip here.
Responsible Travel
Being a responsible eco tour operator is at the heart of what ACTIVETRAVEL ASIA is all about. From the start, we have been committed to offering low-impact tours that benefit traveler and host alike. We work with local communities, businesses and individuals to develop sustainable tourism opportunities that help local economies while minimizing negative environmental and cultural impacts.