Updating Tropical Storm Podul Approaching Northern And North-Central Vietnam Late This Week
Update 29.08: According to the National Center for Hydro Meteorological Forecasting, at 4am this morning, the tropical storm Podul was located in the northeastern area of the Hoang Sa archipelago, about 480 km from the mainland of Quang Tri, Hue, Quang Nam, Quang Ngai, about 680 km to the East of the mainland of Nghe An, Ha Tinh, Quang Binh. The strongest wind near the center of the storm blew at about 75-90 km/hour.
In the next 24 hours, the storm will move to the Northwestern direction with the speed of 25 km/hour. At 04:00 a.m tomorrow morning (August 30), the storm is about 120 km from the mainland of Nghe An, Ha Tinh, Quang Binh to the East. The strongest wind near the center of the storm will blow at 75-100 km/hour.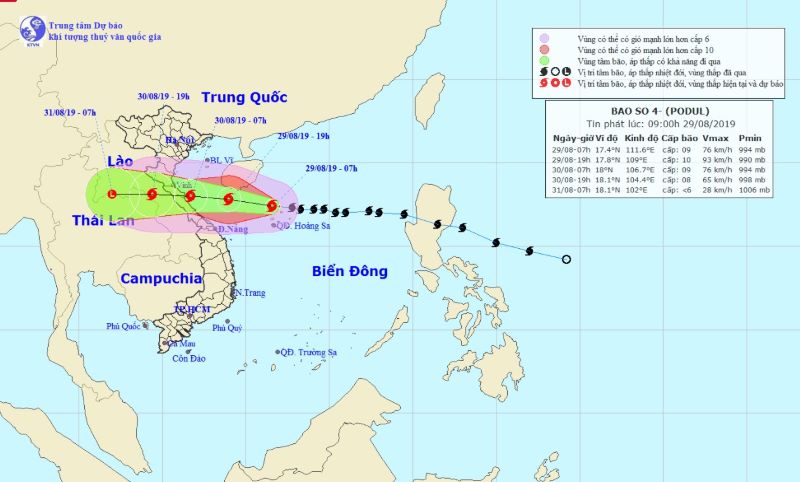 ------
After striking the northern Philippines, the tropical storm Podul (known as Jenny in the Philippines) is forecast to reach land in the north-central provinces of Vietnam late this week.
Podul swept through eastern Luzon, Philippines on Tuesday and Tuesday night, local time and then weakened to a tropical depression while off the coast during Tuesday night. However, since emerging in the South China Sea, it has regained tropical storm status.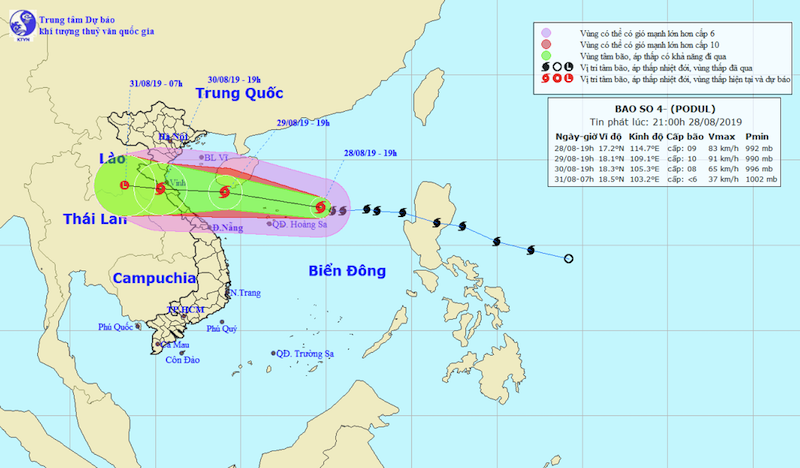 The route of tropical storm Podul from August 28th to August 31st, 2019
At 7:00 am on Wednesday (August 28

th

), Podul was located about 630 km to the east of Vietnam's Hoang Sa archipelago with average wind speed of 60-75 km/hour, reported by the National Center for Hydro-meteorological Forecasting.
The tropical storm Podul is expected to approach Hoang Sa on Thursday morning (August 29th ) with the speed of wind blowing at about 60 to 90 km/hour.
At 7:00 a.m on Friday (August 30

th

), Podul will be reaching South of China's Hainan Island, winds blowing at between 75 and 100 km per hour.
Also on Friday, the storm is expected to make landfall on the coastline between Thanh hoa and Quang Binh provinces, before weakening into a tropical depression again.
Rough seas and strong waves will occur along the Northern and Central coast due to the influence of the storm and its circulation, so do not go swimming in these coastal areas during this time.
From August 31st to September 2nd, there will be heavy rains in Northern and North-central Vietnam which is going to affect your holiday plans on the country's National day.
There will be milder rains in the center of Da Nang city and the south-central province of Binh Thuan during this period.
In the southern provinces, there will be rains mainly in the evening.
Some Useful Notes For You When Storming
If you are planning to head to some storm-affected destinations such as Quang Binh tours or Ninh Binh tours or even Hanoiduring this time, please keep these things in mind:
Stay constantly updated:

Keep yourself up-to-date with the latest information about the storm via news channels and weather forecast websites. Because the storm is easily tracked by satellite, you can easily know when it will make a landfall and then avoid the main affected areas.

Pack carefully:

Make sure you bring clothes that can withstand the heavy winds and rains, preferably waterproof ones. Also, bring waterproof bags to contain your belongings. The rains will often sustain several days after the storm has ceased.

Here are some other essential things you should bring: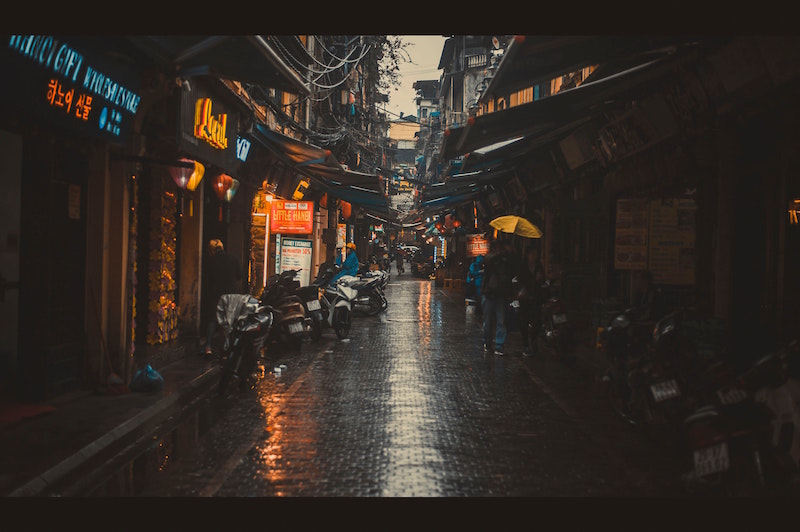 + Raincoat and umbrella
+ Napkins to clean things when they get wet
+ Items to keep you warm like scarf, gloves…
+ Anti-slip shoes
Stay indoors:

You might have been looking forward to the trip for a long time, but remember to put your safety first. When the tropical storm Podul reaches land, it's highly dangerous to travel outside. When the storm rages, please stay indoors in a safe area. This also means you are likely to have to pay more for your accommodation, but you've got no choice.

Choose another regions like Halong with a csuise tour or Halong Kayaking tours as your plan B
The ultimate advice is, just travel to other destinations during this time instead as in other regions, you can still enjoy lovely days with blue sky and dazzling sunshine. You can come to the affected provinces anytime after the storm and explore them to the fullest, so just be patient!
Responsible Travel
Being a responsible eco tour operator is at the heart of what ACTIVETRAVEL ASIA is all about. From the start, we have been committed to offering low-impact tours that benefit traveler and host alike. We work with local communities, businesses and individuals to develop sustainable tourism opportunities that help local economies while minimizing negative environmental and cultural impacts.