What is the best time for Ha Giang tours?
The geography of Ha Giang is rather complex with many high mountains, jungles and rivers forming temperate, but highly localized montane weather patterns resulting in two main seasons, dry and monsoon, dependent on the altitude of the region. The former lasts from mid-September until the end of May, and the balance period of the year is the rainy season. To meet the visitors'own preferences, considering the ideal time for Ha Giang tours to have the utmost exploration of Ha Giang beauty, untouched sceneries and authentic local tribal cultures is a matter of great importance.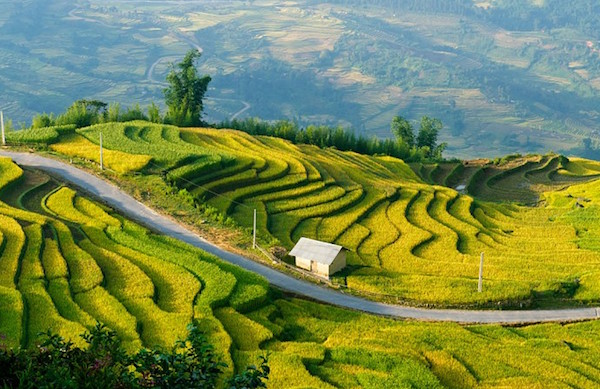 Some facts about Ha Giang
Location

Ha Giang, about 300 km away from Hanoi, is located in the far north-east of the country, at the highest latitude in Vietnam and contains Vietnam's northernmost point. Sharing a 270 km long border with Yunnan province of southern China, with Thanh Thuy crossing gate and three additional ones: the Pho Bang, the Xín Man and Sam Pun, Ha Giang whose population is of 71.689 (2010), and area 7,945.8 square kilometres, is known as Vietnam's final frontier.
The provincial capital, also called Ha Giang, 25 km from Thanh Thuy border gate, is the economical, political and cultural center of the province.
Customs

As home to the majority of Kinh people and over twenty other ethnic minorities such the Tay, H'mong, Nung, Man, Tho, Giay, Lo Lo, Pu Peo each has his own unique and fascinating cultures, Ha Giang undoubtedly offers visitors great opportunities to discover diferent customs and traditions, often held at Lunar New Year, in term of wedding, worship, festivals or funeral, celebrating success, rain ritual, son ritual, crossbow shooting competition, pan-pie performance, all of which are nowhere else to be seen.
To explore the most beautiful landscapes, try the ethnic minorities' local specialities, or experience the sheer thrill of travelling along tortuous roads, we, at ATA will give visitors the guidances in the most helpful and clearest way as you can read below.

What is the best time for Ha Giang tours?

Each season, Ha Giang offers its own character. ATA will provide you an overview on the most suitable time for Ha Giang tours.
The period between January and March is the best time for Ha Giang tours when green trees, hills and mountains come to life again after a long winter sleep. The land and sky seem to have put on a new outfit, dotted with white and pink blossoms of plum and peach with their sweet fragrance, with radiant charisma in the atmosphere to welcome spring. This is truly a romantic setting for leisurely walks or exploring deep forests with winding trails with the supportive temperature of about 16 to 20◦C. However, other time of the year also provides travellers with its own strengths and characteristics.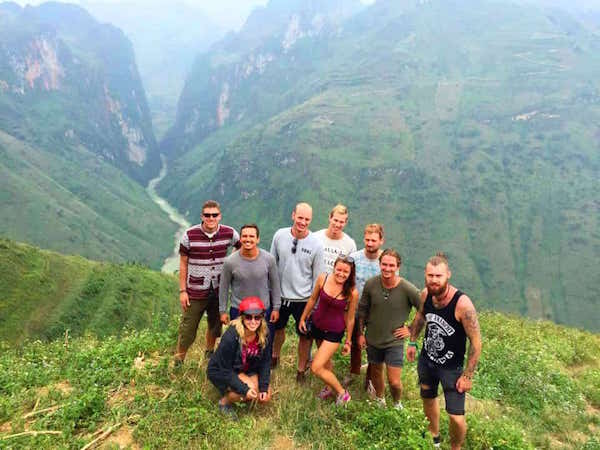 In April, visitors can enjoy Khau Vai Love Market, a yearly unique and bustling festival taking place in Meo Vac district, where a large numbers of locals from different ethnic minorities trek form the districts nearby to meet with their ex-forbidden lovers with the respectful consent of the current partners.

To have a close look on locals' life in their rice terraces clinging on the slope of high mountains with farming activities of buffalo ploughing, harrowing and farmer planting,visitors should come here in May and June. The rice fields, filled with water, under the sunshine, look like a great sparkling mirror to reflect the sunset, the sunrise and the blue sky.

In September and October, these paddies turn yellow when rice ripens and is almost ready for harvest. The nice nature picture with the terraces weaving through the mountains like golden ribbons, gives visitors interesting moments to be immersed in nature, seizing the opportunities to take pictures of their vivid memories.
November comes with the season of buckwheat blossoms. The whole area is covered with lovely, charming flowers and submerged in their pleasant aroma. As Autumn draws to the end, the flowers change color from white to purple-pink, and finally dark red, which enhances Ha Giang attraction. From late November on, it gets colder and the entire province may experience a spell of snow or thick mist hanging over the ground and the hills, which looks like a colorful carpet of ever-green forests with grey stone mountains and striking white snow or mist. The only thing one should take notice of is warm clothings to prevent unexpected extreme weather occasionally.
Popular routes for Ha Giang trekking trails

With such features above, Ha Giang always offers travellers exciting tours to explore her pristine beauty, or interact with the locals. Surely, the more you come to Ha Giang, the better feelings you will have for this distinctively mountainous area with her unique values and spectacular scenery.

Either for leisurely short walks or longer treks, our considerate guides will always be willing to give you the best service.
1. Sa Pa – Bac Ha – Ha Giang – Hoang Su Phi
These areas are often refered to as a wild and poetic beauty endowed to the Northwest highlands with lots of tourist attactions: Dong Van plateau, Quan Ba double mountain, King Meo palace, Ma Pi Leng pass, Lung Cu flagpole, many caves in the mountains and rapids in the rivers.
To make the discovery of these areas to the full, you can't miss seeing the fields full of buckwheat flowers waving in gentle breeze, in the clear blue sky of sunshine.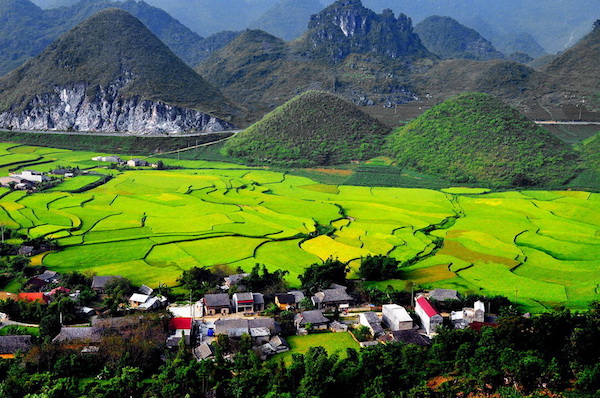 2. Trekking in Ha Giang to remote corners

Tracing zigzag and meandering trails through the forests or on the terraced paddy fields, tourists have genuine chances to interact with nature and get to know the farming methods as well as the life style of the local H'mong, the Tay, the Nung, the Dao who live peacefully in hilltribal villages despite belonging to different races. The most exciting thing is that travellers can choose to stay with the locals while visiting the area to experience their rural life and enjoy their specialities which no other place can offer.
3. Trekking to Sung La Valley

From high above, Sung La Valley looks like a transiquil picture of nature among the dark green mountains of cat ears dotted with faded roof of the solid houses. Spring here is beautiful when flowers bloom throughout the rocky plateau turning the harsh, cold natural landscape into a beautiful picture. Sung La Valley is also called "oasis" as it is enclosed in Dong Van rock plateau.


4. Trekking Adventure to Hoang Su Phi


Hoang Su Phi, a mountainous district of Ha giang, about 70 kilometers from the city center, possesses the unspoilt beauty of Thong Nguyen Commune inhabited mostly by the Dao ethnic group. The entire area is flooded with tea plantations, terraced fields and forests.

Pay a visit to Thong Nguyen and Nam Hong

Getting there, you can enjoy a homestay with the locals and experience their routines in a rudimentary but not less comfortable stilt houses. Feeling quite fresh then, energetic tourists can go hiking, trekking, biking, or trekking to Nam Hong village, a small mountainside hamlet by Man Ta Pan (Red Dao group).

Hike from Nam Hong to Nam Ai

After overnight with a Man Ta Pan family in Nam Hong , tourists will make for Nam Ai, the hamlet of the Long Tunics Dao to realize the differences between the Red Dao and the Long Tunics Dao in terms of their traditions. Here, tourists can see with their own eyes the tea plantation with ancient tea plant - Shan Tuyet tea, a unique speciality, when drunk will leave the bittersweet taste and then persistent sweetness in the throat. Back to a homestay, visitors happily enjoy family meal consisting of all fresh home-made products to save energy for the next day journey.


Discover Phung village and visit local market

Getting to Phung Village, where the H'mong and La Chi live, you will see an intimate asmosphere of young boys and girls coming out to welcome strangers with their curious eyes. Then, before your eyes appears an amazing sight of pristine beauty protected by two mighty mountains Tay Con Linh and Gia Long, which attract adventurous travelers.

Looking around, you will see the terraced fields covering over the valley and circling the hill sides like lovely pictures carved into the mountain sides, a peaceful and tranquil setting only found here.
5. Trekking to Dong Van Karst Plateau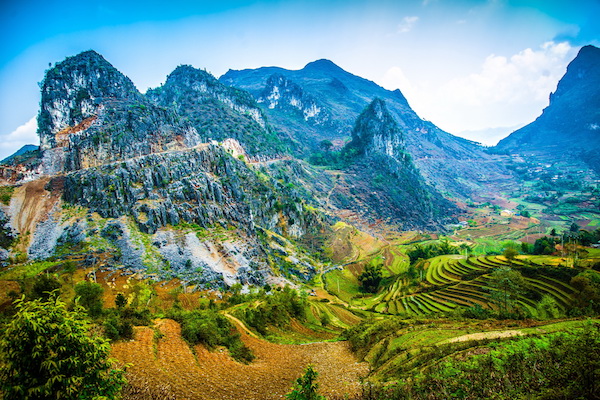 To many tourists, Trekking to Dong Van Karst Plateau is the main thing to do during their journey. Situated at the height of about 1600 metres above the sea level, and about 146 km from Ha Giang City, Dong Van is well-known not only for dramatic scenery with sheer mountain cliffs but also for a high biodiversity of culture of ethnic groups.
There are many high mountains and deep canyons here, including the highest peak - Mount Mieu Vac (1971m) and the deepest canyon -Tu San (800m). But perhaps, the special point that makes the tourists flock here is the incredible features of 'rock gardens' and 'rock forests' - Khau Vai and Lung Pu gardens in Meo Vac and Van Chai garden in Dong Van. Also, there are caves with karst structures like Rong Cave in Sang Tung, En Cave in Van Chai, and Kho My Cave in Tung Vau.
This area is also rich in fauna and flaura. It is home to more than 50 species of rare animals like birds and reptiles, and over 40 species of orchids, especially slipper orchid.
Another thing that can't be missed is the 100-year-old Dong Van Old Quarter, with typical Chinese architecture, where the Hmong, Tay, Kinh, Zao and Hoa live. From March 14th to 16th (Lunar calendar), there is a festival here when the local people hang their red lanterns, present their traditional brocade products, foods and perform cultural activities.
Must-try foods in Ha Giang

Not only famous for breathtaking sceneries, Ha Giang is also well-known for best specialities that are nowhere to be found. Ha Giang people, with honest, sincere and hospitable nature, always provide customers with traditional, local foods without any harmful chemicals but very nutritious and fussy in processing. Thus, nothing is better than spending time after every exciting discovery enjoy whatever dishes offered here.

1. Au tau porridge (Cháo ấu tẩu)




Au tau porridge is made from the main ingredient – au tau – a tuber root of Chinese aconite, a kind of favorable plant with the climate and soil conditions of Ha Giang. Though strange that there is poison in the flowers of the plant, skillful cooks in Ha Giang always know how to treat it and cook it properly.
With rice and pork trotters, Au tau porridge has a slight brown color. Topped with some aromatic green herbs, the dish looks very eye-catching. Breaking a raw egg, adding a litle ground pepper and chili, you can enjoy this dish hot.

2. Pork and buffalo hung in the kitchen. (Thịt lợn và thịt trâu gác bếp)
Again, this dish is fussy in processing. Only raw material, usually long slices of pork and buffalo are selected, seasoned with chili, ginger, especially choking and without any preservatives before being hung in the right kitchen in a due time. The finished product is chewy, sweet and spicy. When chewed slowly, the food will give you the delicious taste with a deep impression.

3. Thang co (Thắng cố)
This dish is mainly made from the ingredients of horse meat or beef and the offal, stir-fried before being simmered for long hours. With a unique, blending taste from cardamom seeds and lemongrass, the flavor of grilled pork, Thang co here always keeps the visitors behind whenever they pass the region. Delicious though, it is served reasonably in many food stalls in Dong Van market or elsewhere in or near Ha Giang. Remember to add a little salt and red hot pepper, and if you like, you can often use it with Khen wine, a speciality of this highland area.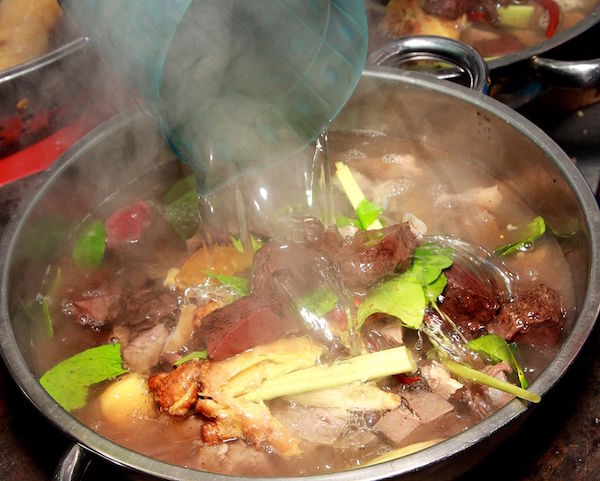 4. Steamed egg rolls (Trứng cuộn)
With the cold weather pattern, hot dishes are always Ha Giang people's favorites and so is steamed egg rolls. As its name refers, this dish is made from egg, but pork, fried onion and some other spices- peper, chili can't be omitted.
After beating the egg, add seasoning, stir and then fry the mixture in a hot oil pan, you roll it up with minced pork inside and steam it properly. Pick up a thin slice of egg roll, dip it into the sauce simmered from pork bone, you'll have a perfect dish to be remeberd.

5. Bac Me bamboo sticky rice (Cơm lam Bắc Mê)
This dish is made from local products like the terraced sticky rice only, After being well soaked in ground water, added just a little salt, the cheft fill the bamboo sections with the mixture and grill them directly on charcoal for one hour. These bamboo packs while being grilled, must be turned around to make sure they are well-cooked.
Tradionally, this kind of dish was for postnatal women only but nowadays, it become widely used as it is truly delicious and healthful, and especially convenient for the picnics outdoors and treks into deep forests.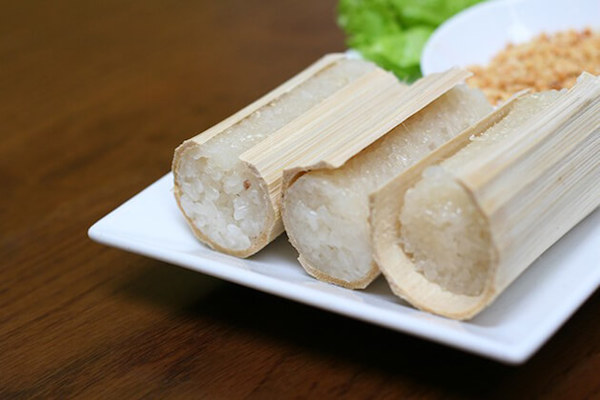 6. Grilled moss (Rêu nướng)
Moss seems to be of no value, but in fact it is the main ingredient of one of the Tay's well knwon specialties. Collected from interstitial rocks, it is cleanly washed in water and squeezed to remove the sliminess and dust. Then it can be cooked in different ways, either stir-fried, dried or grilled.
As moss is of great nutrition, but not available, and should be eaten in suitable season, the Tay often collect it in proper time, dry it and put it aside for later use.

7. Thang Den (Thắng Dền)
Another famous food in Ha Giang is Thang Den, made of sticky rice flour with the filling peas inside. After being kneaded into sphere shapes and boiled in a hot pot of water, it is put in a bowl, served in combination with coconut milk, a little sugar, sesame and peanuts. It will be an interesting experience to enjoy Thang Den while you are strolling around the area.

8. Pho chua Ha Giang (Phở chua Hà Giang)
Pho chua Ha Giang, in fact originated from China and often known with the name "Luong pan" meaning "Phở mát". As its name refers, this dish has a slightly sour taste, preferably enjoyed in summer.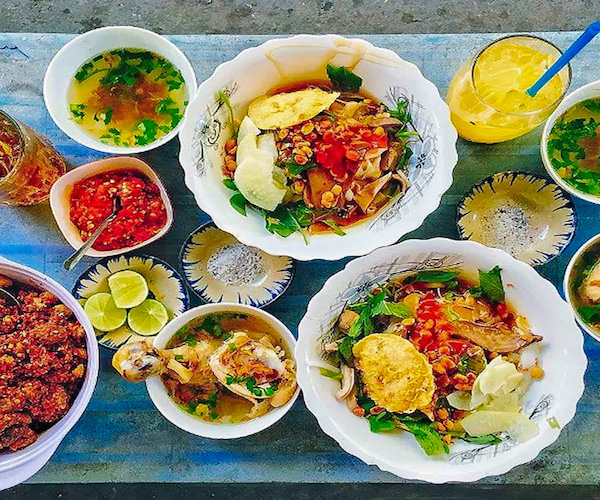 9. Buckwheat cake (Bánh tam giác mạch)
If coming to Ha Giang in the right time, you can have an opportunity to not only immerse yourself in the fields full of purple buckwheat blossoms but also try her only special food – buckwheat cake. The cake is made from the seeds, engrossed in the petals of the flowers. It is often steamed over boiling water and sometimes served with Thang Co like corn cake or five-color sticky rice by the Mong people.
10. Bac Quang orange (Cam bắc quang)
Thanks to the fertile land and favourable weather conditions, Bac Quang orange has become one of the best kinds of orange in Viet Nam, with typical and sweet flavor that hardly any others can have.
If you have ever tried this juicy and fresh Bac Quang orange, it's hard for you to ignore it and you can't resist paying a visit to the orange garden during the harvest season. Only by looking at the trees fully laden with fruit, will you be hypnotized, let alone eating such sweetly-riped ones.

Conclusion

With the hope to provide tourists with community tourism products, rich in cultural values and beautiful landscapes, diverse tours for active travellers, friendly to the environment as well as helful in enriching the living conditions for the ethnic minorities in Ha Giang, we, at ATA, consisting of responsible, enthusiastic and professional staff always want to do our best to do the job well. Our tours of Ha Giang, with many pristine forests, various famous specialities, will surely meet your requirements and satisfy your wishes, even the most fastidious ones.
Responsible Travel
Being a responsible eco tour operator is at the heart of what ACTIVETRAVEL ASIA is all about. From the start, we have been committed to offering low-impact tours that benefit traveler and host alike. We work with local communities, businesses and individuals to develop sustainable tourism opportunities that help local economies while minimizing negative environmental and cultural impacts.