What to prepare for Halong Kayaking Tours?
Many people choose
Halong Kayaking Tours
as a way to explore the breathtaking beauty of Halong Bay. However, just because you book a kayaking tour with a random travel agency doesn't mean you don't have to make any preparations before you go.
A brief introduction to Halong Kayaking

Kayak in Halong


Halong was recognized to be one of the top 25 kayaking destinations in the world by National Geographic magazine. One British travel magazine, Wanderlust also rated Vietnam as a top destination for people who love kayaking.
Kayaking activity was first introduced in Halong Bay in the early 90s of the 20th century. At first, kayaking was primarily popular among adventurous foreign travelers but later, there have been more and more domestic tourists participating in the activity, especially dynamic young people.
Currently, there are 8 areas in Halong Bay that tourists can kayak in: Ba Hang Cave, Hang Luon Cave, Dong Tien Lake, Trinh Nu Cave, Vung Tung Sau, Cua Van, Vung Vieng, Hang Co Cave and Cong Do - Tra San areas. There are more than 100 to 200 kayaks for rent in each area.
Most kayaks are two-seat kayaks, so if you are new to kayaking, you can go with a somewhat experienced companion. Tourists have to strictly follow the instructions of the boat staff and tour guides, as well as always wear a life jacket when kayaking in Halong Bay. Just after 5 minutes of rowing, you can familiarize yourself with the basic techniques and know how to control your kayak.
The water in Halong Bay area is often very quiet and calm, so you can gently row while admiring the beautiful surroundings. Sometimes, the waves caused by high-speed canoes will be a bit of a challenge for new players.
Is kayaking difficult?

Paddle in the middle of the water


Kayaking can be suitable for many different age groups depending on the difficulty of the water flow. Generally, kayaking can be considered as "moderately difficult" because you need to use the strength of your arms and shoulders to use the paddle and push the boat forward.
Kayaking will be less difficult in places where the water is calm. And it can also be significantly more difficult to row in rapids and strong opposite currents. Creating the right paddle pace can prevent muscle fatigue while rowing, as well as you should take regular breaks whenever possible to enjoy the scenery.
If you are planning to row and admire the tranquil water, you can slowly drift along the river, breathe fresh air and listen to the sounds of nature calling. If you are planning on rowing on high speed rapids, you may find it a bit more difficult.
In short, this is a hard sport if you have never known what kayaking is. However for most people who love water sports, kayaking is an entertaining, relaxing and fun sport that can be loved by all ages and people from all walks of life.
When to kayak in Halong Bay?
Kayaking can be done at any time of the year, but the best time to experience kayaking in Halong is probably the summer when the weather is dry and the sky is clear to easily grab. Wonderful natural moments under the sun and breathtaking fresh water. Autumn is also suitable for kayaking and you should avoid kayaking in cold weather or on heavy rain days.
What to prepare for your Halong Kayaking Tours?
Before the tours
- Check the forecast: Kayaking through a lite drizzle won't be a big deal. But trying to paddle through in a heavy rain days will be quite dangerous. That's why you should check all weather conditions in Halong before heading out. Also, heavy rains from a day or two prior will make for more turbulent waters too.
- When you go kayaking, you should not bring your camera or phone to avoid getting wet or dropped into the water. If you want to save the beautiful moments, when you have just got off the boat, you can ask the guide to take some pictures for you. However, If you still want to carry some electronic devices onboard with you, you will need to store them in a dry bag.
- When kayaking, wear spacious and comfortable clothes. You should not wear jeans or a skirt. Also, you should wear waterproof sports shoes, otherwise you can bring your sandals.
- Wear a hat and glasses when sailing to avoid direct sunlight and seawater. Of course, don't forget to apply sunscreen to protect your skin from sunburn.
- Bring binoculars: It might be helpful to have binoculars with you as you can watch birds while paddling.
During the tours
On shore
- Warm up: Before participating in any athletic sports, you need to have warm-up to heat up the body, avoiding joint and muscle injuries caused by continuous movement. For kayak, because you often use more upper body, you need to warm up your wrists, hands, shoulders and hips carefully.
- Wear life jacket.
- To start kayaking, sit inside the boat. Then, place your back close to the back of the seat, bend your knees and relax comfortably.
Stretch your legs out and shrink a bit so that you can place your feet on the footrest. If your legs are too straight, you will feel the pressure on your lower back. If your legs are bent too much, you may bump into the boat's knee fixing device when you row.
With your hand on the paddle, start with your arms parallel to the center and shoulder width. When you bring the paddle up to the top of the head, the elbow should create an angle of approximately 90º. The length of the blade and the length from the handle point to the grip should be equal.
On the water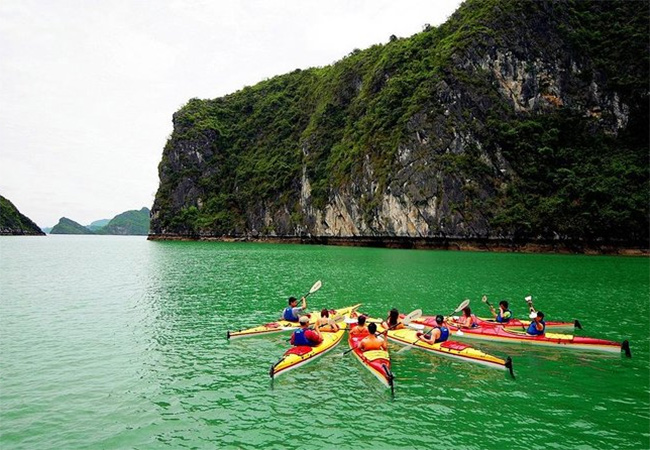 Halong Kayaking Tours
- Always kayak in group and follow your tour guide. If your tour guide tell you to stay away from certain areas, just do that.
- Keep a suitable distance to other people's kayaks so that you'll not collide them nor get lost.
- If your kayak capsizes, you might have to float on the water for a while before your tour guide come and help you. First, the guide will take the water out of your kayak and then he'll help you get into your kayak again.
Back on shore again
- Stretch it out: So your body is quite tight and settled in upright position as you've been sitting like that for an hour or two or maybe even more. To avoid cramps and aches throughout the rest of the day, you should do some light stretching. It's also beneficial to do these before kayaking.
- Dry your things: You are likely to get wet while kayaking, so you should make time to dry your belongings and clothes when you're on shore again.
Hope that with the tips above, you'll make the best preparation for your Halong Kayaking Tours.
Responsible Travel
Being a responsible eco tour operator is at the heart of what ACTIVETRAVEL ASIA is all about. From the start, we have been committed to offering low-impact tours that benefit traveler and host alike. We work with local communities, businesses and individuals to develop sustainable tourism opportunities that help local economies while minimizing negative environmental and cultural impacts.