The Ultimate Guide before planning a trip to Mai Chau, Vietnam
Located in the west of Hoa Binh, adjacent to Moc Chau district of Son La and Quan Hoa of Thanh Hoa, Mai Chau valley is one of the most attractive destinations for tourists who love the natural beauty as well as the culture of the mountainous people. During a
Mai Chau tour
, you will walk through the peaceful villages and stay overnight in a homestay where we have the opportunity to learn about the culture of Thai people. It is so interesting for those who love to explore the new land. If this is your first time to come here, we have some experiences for you.

Best time traveling to Mai Chau
You can come to Mai Chau any time of the year. Each season in Mai Chau has a distinct beauty. But according to Mai Chau tourism experience of the professional players, the period from March to April or October to December is the best time to explore this place.
March - April: This is the season of blossoming of the white ''Ban'' flower. At this time, you can not only enjoy the fresh air, cool and pleasant weather but also admire the beautiful landscape and have memorable photos.
September - October: "Golden season" in Mai Chau. The vast golden rice fields will surprise you with its beauty.
November to February: This time, Mai Chau is in winter, the air of this mountainous area is very cold. You will see cherry flowers and plum blossoms. Mai Chau will be covered with a white color, looks so poetic.
Cherry blossom in Mai Chau
How to get to Mai Chau
Mai Chau is 140 km far from Ha Noi with convenient traffic. You can move to this destination easily by car of a Mai Chau tour. After about 2 hours, you will set your foot on this beautiful land.
When you come to Mai Chau, you can rent a bike for VND 20,000 or 200-250,000 VND per day for motorbikes. However, we recommend you to walk through Mai Chau villages to experience the scenery, life and featured culture here.
Where to stay in Mai Chau
There are lots of accommodation options here, and more are being built while you read this.
If you want to stay in a luxury place with full of facilities, you can choose a hotel. There are many types of hotels here, from 3-star to 5-star one. They not only provide you an accommodation but also other facilities such as swimming pool, restaurant, motorbike rental, etc. Some favorite hotels that are recommended by tourists such as Mai Chau Valley View Hotel, Mai Chau Ecolodge, Mai Chau Sunset Boutique Hotel, Mai Chau Lodge, Mai Chau La ViDa, etc.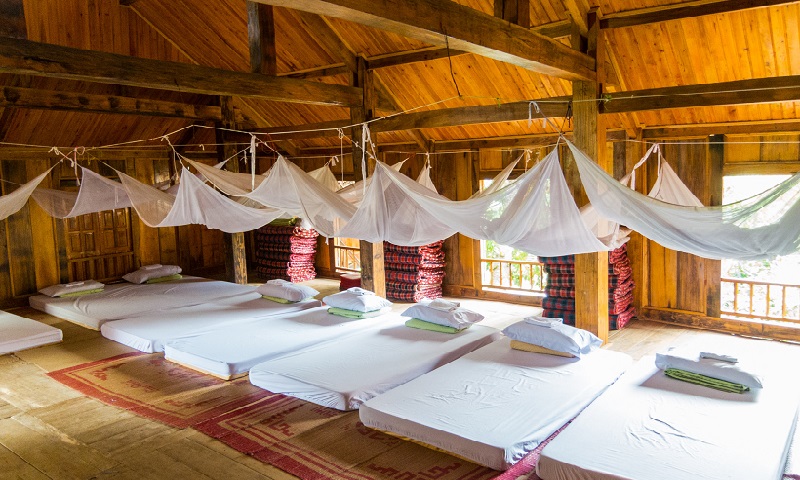 Homestay is a great choice for a Mai Chau trekking tour
Most people traveling to Mai Chau choose homestay. It is suitable for those who want a
Mai Chau trekking tour
to explore and experience all the beauty here. You can easily rent a room in the town, Lac village or Pom Coong village. The households in both villages almost all provide accommodation services on the stilt floor. In addition, if you want a private room, they can also offer single, double or family rooms. Here are some options for homestays in Mai Chau for you: Eco Homestay, Lim's house, Lu's Homestay, Quan Hang Homestay, Little Mai Chau Homestay, etc.
What to do in Mai Chau
Visit Pom Coong Village: According to Mai Chau tourism experience, the plus point of Pom Co in tourism is the clean, fresh and safe space. Besides, the waste here is classified, stored in the bin and will be treated. So, come here, you will feel the freshness of the land and the peace of life.
Trek to Thung Khe Pass:
This is one of the most scenic spots in Hoa Binh. There are no tourists who don't visit Thung Khe Pass when having a
tour in Mai Chau
. From here, you not only see all the natural scenery of the valley but also enjoy the folk food that is sold along the road as boiled corn, boiled sugar cane, sesame, etc.
Discover Lac Village: Lac Village one of the most attractive places for tourists in Mai Chau. It is characterized by the traditional stilts on the floor, the green bamboo surrounded by the rice paddies. Moreover, this village is also loved by the colorful brocade booths, the friendly people, delicious food, and clean village. The tourist services are also very professional. So the Lac Village is always crowded and bustling.
Lac Village - a popular tourism destination in Mai Chau

Explore Mo Luong Cave: About 2km from Lac village. Mo Luong Cave consists of 4 main motifs, famous for its stalactite system forming many unique shapes. After a journey of exploring Mo Luong Cave, in the last cave, visitors can admire a stream of underground water flowing to the lake nearby. This is a beautiful landscape that you should not miss when visiting Mai Chau.
Uncover Van Village – Buoc Village – Van Mai Village: These are both the traditional villages in Mai Chau. Different from the Lac Village, these still retain the original features, the bold cultural identity of the nation. For people who like the quiet, fresh air and blue of the mountains, this is an ideal choice for trekking in this area. You can experience the local life.
Some must-try foods in Mai Chau
In your
journey in Mai Chau
, after admiring the beautiful natural scenery, you should not overlook some featured dishes of Thai people such as:
Com Lam: This is a specialty of Mai Chau. Processing this dish requires skill and meticulousness. It must be cooked by the rice of mountains, small seeds, elongated and aromatic. Com Lam should be tasted with sesame salt.
Muong pork: Also known as armpit pig, this is one of the highland food. Indigenous people often use this special dish to entertain guests.
Bitter shoots: Mai Chau people usually take bitter bamboo shoots in the forest for soaking or drying. Many visitors are fascinated by this dish by the unique taste, bitter but sweet tongue in the throat.
Phao Leaf Juice: This water is a bit acrid but very good for health. It helps increasing resistance and stimulating the digestive system.
If you want to have peaceful and relax days between the mountains of the Northwest or explore the unique culture, traveling to Mai Chau is an ideal place. Hope that above experience will be useful for you in your Mai Chau tour.
Responsible Travel
Being a responsible eco tour operator is at the heart of what ACTIVETRAVEL ASIA is all about. From the start, we have been committed to offering low-impact tours that benefit traveler and host alike. We work with local communities, businesses and individuals to develop sustainable tourism opportunities that help local economies while minimizing negative environmental and cultural impacts.